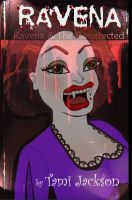 Author: Tami Jackson
Format: E-book
My Rating: 4 out of 5 stars


Summary (from Smashwords.com):

Ravena & The Resurrected (R&R) features a likable but awkward young woman, a year out of college, whose technically inclined and works for the central library in the computer repair division. After work, she follows her dreams for meeting vampires, but when she becomes resurrected, she learns that being dead is very different from what she had imagined.





R&R is probably the only vampire novel that puts an entire lair of fang-bearers in the middle of a wooded forest where they must communicate with all sorts of wildlife. Ravena, on the other hand, must remain alert because a most motivated enemy constantly pursues her.
A few weeks ago I was contacted by Tami Jackson, author of Ravena & The Resurrected. Tami offered me the chance to read her book for free in exchange for an honest review, and once I read the synopsis of the novel, there was no way I could refuse!
My Summary: Ravena Doomlah is just your average girl – a little overweight, single, and waiting for her life to get a little more exciting. Ravena is one of the few people who believes that vampires are real. She decides if she's going to find some and become a vampire herself, the place she needs to be is Seattle.
So Ravena packs up and moves to Seattle, scoring a job as a 'computer geek' (tech support) for Central Library. One day, she spots a handsome blonde with blue-green eyes, and she knows: he's a vampire, and he's going to be the one who changes her.
But things don't go as planned for Ravena. Ravena has an encounter with a wrinkly old man sporting a dali mustache in a parking garage (who also just happens to be a vampire). Ravena falls to the ground, where the vampire proceeds to pounce on her. Somewhere over the course of the struggle, Ravena hits her head on the hard pavement and blacks out completely…
And then… well, you'll have to read the book to find out, silly!
My Thoughts: I really enjoyed this novel, and I'm so grateful to Tami for the opportunity! Ravena is such a relatable character – especially to me – and I had no trouble at all getting right into the story. And she's such a fun character, too! Only eats pastries (she's a self-proclaimed "pastriarian"), works at Central Library… and not to mention her car, The Thirst, reminds me of my car!
This book was great. If there are ever printed copies available, I'm pretty sure I'll be the first one in line for a copy (and trust me, there will be a line)! For now, though, it's only available through Smashwords.com, but you can download it on any platform for only $9.99! Below you'll find a direct link for the Smashwords page, and also the teaser video.
I DEFINITELY recommend you check it out! And you know what? Tami will be here in a few weeks to answer some questions, and she'll be announcing the winner of her Ravena & The Resurrected contest! (If you haven't signed up for it yet, now would be a good time :P).
Download Ravena & The Resurrected here !!!
Make sure you check back on February 25th for my interview with Tami and the announcement of the winner!