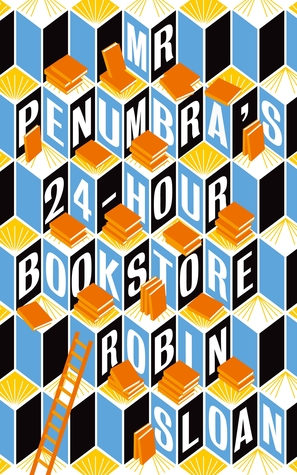 Author: Robin Sloan
Pages: 291
Publisher: Atlantic Books
Format: Paperback
My Rating: 5 out of 5 stars

Summary (from Goodreads): Recession has shuffled Clay Jannon out of his life as a San Francisco Web-design drone - and serendipity, coupled with sheer curiosity, has landed him a new job working the night shift at Mr. Penumbra's 24-Hour Bookstore.

But after just a few days, Clay begins to realize that this store is even more curious than the name suggests. There are only a few customers, but they come in repeatedly and never seem to actually buy anything, instead they simply borrow impossibly obscure volumes from strange corners of the store, all according to some elaborate, long-standing arrangement with the gnomic Mr. Penumbra.


The store must be a front for something larger, Clay concludes, and soon he's embarked on a complex analysis of the customers' behaviour and roped his friends into helping to figure out just what's going on. But once they bring their findings to Mr. Penumbra, it turns out the secrets extend far outside the walls of the bookstore....


---
My Summary: The recession was hard on everyone, including twenty-something web designer Clay Jannon. After a few months of unemployment, he finds himself accepting a job at a used bookstore in the shadier part of town. But Penumbra's bookstore is not the kind of place you can find shiny new releases and franchise coffee companies, and Clay soon realizes that there is something very strange going on between the shelves of Mr. Penumbra's 24-Hour Bookstore.
Together with his friends and his computer, Clay sets out to solve the mystery of the 24-Hour Bookstore. But what he discovers sets off a chain of events that may endanger the life of his employer and mean the end of the store as he knows it.


My Thoughts
: First off, look at that gorgeous cover! I fell in love with it while trying to decide what format to buy the book in, and I'm so glad I chose this edition. It's a very petite book, but altogether very pretty.

This book was SO good. I found myself wanting to speed through it because it was so well-written and engaging, but I forced myself to slow down and savour it. Sloan's writing flows beautifully, and his characters (especially our MC, Clay) are extremely likable.
I loved the premise of the mystery surrounding the bookstore, and I think fans of A Series of Unfortunate Events will really enjoy this novel. The writing pulls you in from the very first page, and there was never a moment where I felt like the pacing was off or that the story was dragging. Clay's narrative is smooth and easy to read, and my only problem with this book is this: I wish it were longer.
Final Thoughts: I definitely recommend this novel to anyone who enjoys mystery and suspense novels, as well as older fans of Lemony Snicket's A Series of Unfortunate Events like myself.