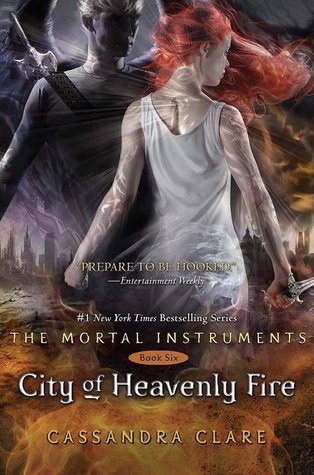 Author: Cassandra Clare
Pages: 725
Publisher: Margaret K. McElderry
Format: Hardcover
My Rating: 5 out of 5 stars
Summary (from Goodreads): Darkness returns to the Shadowhunter world. As their society falls apart around them, Clary, Jace, Simon and their friends must band together to fight the greatest evil the Nephilim have ever faced: Clary's own brother. Nothing in the world can defeat him — must they journey to another world to find the chance?







---
I'm gonna keep this review short and sweet so as to refrain from accidentally spoiling anything for those who haven't read it yet, but I just need to say one thing first:
IF YOU HAVEN'T READ THIS SERIES YOU SERIOUSLY NEED TO ASAP I MEAN SERIOUSLY.
Glad I could get that out.
On to business: this conclusion to one of my favourite series of all time is one of those rare few that does not disappoint in any way, shape, or form. I loved the introduction of the new characters, and the development of the old ones. I flew through this novel; Cassandra Clare's writing pulls you into the world of the Shadowhunters and doesn't let you leave even after you've turned the last page. I adored every minute of this book, and the second I finished I reached for my copy of City of Bones, not quite ready to part with the characters and the world I'd to which I'd become so attached.
If you haven't already, I definitely recommend you check out anything of Cassandra Clare's. I'm sad to see this series ending, but I'm also really excited to read Emma and Julian's story. Thank you, Cassie! It's been a pleasure.