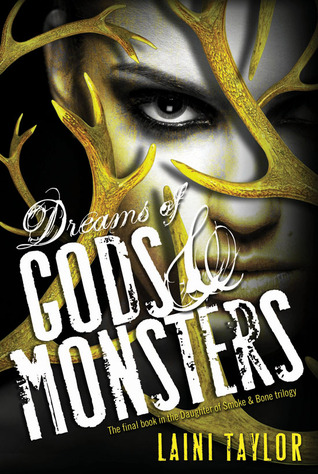 Author: Laini Taylor
Pages: 613
Publisher: Little, Brown
Format: Hardcover
My Rating: 5 out of 5 stars
Summary (from Goodreads): By way of a staggering deception, Karou has taken control of the chimaera rebellion and is intent on steering its course away from dead-end vengeance. The future rests on her, if there can even be a future for the chimaera in war-ravaged Eretz.
When Jael's brutal seraph army trespasses into the human world, the unthinkable becomes essential, and Karou and Akiva must ally their enemy armies against the threat. It is a twisted version of their long-ago dream, and they begin to hope that it might forge a way forward for their people.
And, perhaps, for themselves. Toward a new way of living, and maybe even love.
But there are bigger threats than Jael in the offing. A vicious queen is hunting Akiva, and, in the skies of Eretz ... something is happening. Massive stains are spreading like bruises from horizon to horizon; the great winged stormhunters are gathering as if summoned, ceaselessly circling, and a deep sense of wrong pervades the world.
From the streets of Rome to the caves of the Kirin and beyond, humans, chimaera and seraphim will fight, strive, love, and die in an epic theater that transcends good and evil, right and wrong, friend and enemy.
At the very barriers of space and time, what do gods and monsters dream of? And does anything else matter?
---
My Thoughts: This was one of those rare conclusions to a beloved series that answered all my questions and made me fall in love with the story all over again. There was substantial character growth, and the introduction of a new character that added a great element to the story. It was a beautiful, emotion-packed conclusion to a series that I've loved from the very beginning. Laini Taylor is a master of all things literary; her sentences feel like music and her language is incredible. I felt as if I was reading prose and every word had been so deliberately chosen - needless to say, if I had three wishes the first thing I'd wish for is talent like Laini Taylor's.
I definitely recommend this series to anyone who enjoys paranormal and fantasy novels, as well as romance with a darker undertone.