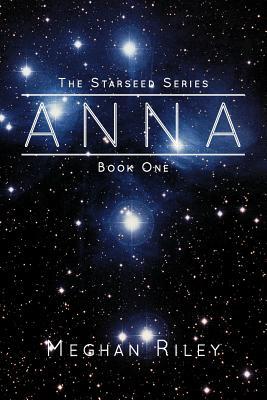 Author: Meghan Riley
Pages: 374
Publisher: Createspace
Format: Paperback
My Rating: 4 out of 5 stars
Summary (from Goodreads): To the outside world, Anna appears to be an ordinary high school senior...
Anna has a lot of questions. Should she pursue her desire to leave home for college and live out her dream of becoming a physicist? Or should she stay home and help care for her family, which has struggled ever since her father died in Afghanistan? Is her crush, Steve, really interested in her, or is he only using the highly intelligent Anna to try and boost his grades in school?
These questions, plus the ordinary trials and tribulations of high school, distract Anna from noticing some very... strange things that are beginning to happen to her.
For as long as Anna can remember, she has had a haphazard smattering of freckles on her arm. But these freckles are starting to change, and cause a series of unnerving hallucinations and odd side effects that only Anna seems to notice. When a strange shadow man starts to haunt her nights, she decides to go on a hunt for the truth to discover, once and for all, what is happening to her.
The hallucinations continue growing stronger, however, and each new visit by the shadow man appears to become more and more threatening. Eventually, Anna realizes that she can no longer hide from her friends and family what is happening to her. But as she shares her secret with those closest to her, Anna never imagines that her very life, and the lives of those she loves, will be put in jeopardy.
Who, or what, is Anna?


---
Disclaimer: I received a copy of this novel from the author in exchange for an honest and unbiased review.
My Summary: Anna is just a normal high school student: she has a crush, she does well in school, loves astronomy, hates her brother's drama ... all in all, your average teenager.
Or is she? When the freckles on her arm start to change, her whole life is thrown into chaos. Her freckles - which seem to be in the exact shape of the constellation known as the Pleiades - appear to be changing and moving, causing hallucinations and waking nightmares.
Is it all in her head, or is Anna really receiving visits from a shadowy stranger at night? Could she be more connected to the stars than she thought?
My Thoughts: This novel was really not what I thought it was going to be (based on the synopsis) but it was incredibly enjoyable all the same.
I really enjoyed the writing itself - Meghan Riley definitely knows her way around a sentence. The author's use of imagery was masterful, and I really liked the way the writing pulled you in from the start.
Anna herself was an extremely likable character. She faces all the typical issues most teens face, but with the added bonus of a mystery surrounding the freckles on her arm and a dark figure that seems to be appearing to her. The mystery element was very well done, and I'm definitely gonna keep my eye out for books two and three of the trilogy.
Final Thoughts: I recommend this novel to fans of contemporary YA who don't mind a litttle sci-fi and paranormal thrown into the mix. Check it out!