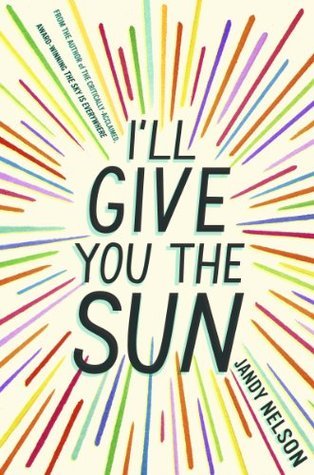 Author: Jandy Nelson
Pages: 384
Publisher: Dial
Format: Hardcover
My Rating: 5 out of 5 stars
Summary (from Goodreads): Jude and her twin brother, Noah, are incredibly close. At thirteen, isolated Noah draws constantly and is falling in love with the charismatic boy next door, while daredevil Jude cliff-dives and wears red-red lipstick and does the talking for both of them. But three years later, Jude and Noah are barely speaking. Something has happened to wreck the twins in different and dramatic ways . . . until Jude meets a cocky, broken, beautiful boy, as well as someone else—an even more unpredictable new force in her life. The early years are Noah's story to tell. The later years are Jude's. What the twins don't realize is that they each have only half the story, and if they could just find their way back to one another, they'd have a chance to remake their world.
---
My Summary: Noah and Jude have never spent more than a few moments apart. They are every stereotype you could possibly have about twins embodied: they share thoughts, dreams, and talents. Both are budding artists at the age of 13 - Noah a painter, and Jude a sculptor. But the twins know things are changing in their lives, and their art begins to take a backseat to first loves and heartbreak.
Fast forward two years and Noah and Jude are shadows of their former selves. Radiant Jude has hidden herself away, donning over-sized sweaters and skullcaps to erase any trace of her golden hair and her past. Noah has stopped drawing and is almost unrecognizable to even his twin. Could it just be time and their mother's untimely death changing them, or is it something else? And can they recover from the wounds they've inflicted on each other?
My Thoughts: Oh man. I should've known that this novel would hit me where it hurt, but - I'm ashamed to admit this - I underestimated Jandy Nelson's power to kick my emotions into high gear. Having read and adored The Sky is Everywhere, I really shouldn't be surprised.
The writing was perfect as expected, and I never expected to get so attached to two characters. Noah and Jude were so different, while simultaneously being so similar. Getting to know them was an incredible experience. Their story was moving, heartbreaking, and so full of that special kind of grief that has everything to do with regret and the future you thought you had being pulled out from right underneath your feet. The secondary characters were just as dynamic as Noah and Jude, and I can't imagine any better way to tell their story.
Jandy Nelson is truly a master of all things written. I loved every second of this novel, and I can't wait for her next.
Final Thoughts: I recommend this novel to anyone who enjoys edgier contemporary literature and isn't afraid to cry gross ugly tears while reading.