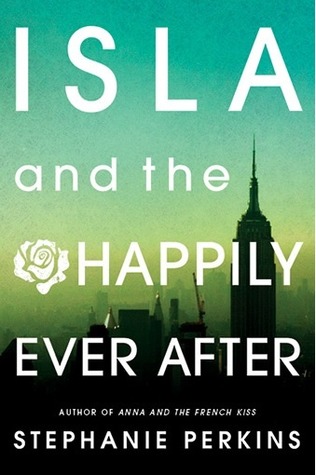 Author: Stephanie Perkins
Pages: 339
Publisher: Dutton
Format: Hardcover
My Rating: 5 out of 5 stars
Summary (from Goodreads): From the glittering streets of Manhattan to the moonlit rooftops of Paris, falling in love is easy for hopeless dreamer Isla and introspective artist Josh. But as they begin their senior year in France, Isla and Josh are quickly forced to confront the heartbreaking reality that happily-ever-afters aren't always forever.
---
My Summary: Isla never thought anything would ever happen between her and her crush of more than three years, but one chance meeting in a cafe over the summer sends Isla and Josh down a path towards love.
But sometimes love isn't enough to keep two people together, and over the course of a school year Isla and Josh learn just how much it takes to be the best version of yourself, and how to make it to forever with the person you love.
My Thoughts: Stephanie Perkins is one of those rare authors who can transfix and captivate her readers from the very first sentence. Like almost every blogger I know, I pre-ordered Isla and waited anxiously for the release date. Flipping it open for the first time, I knew without any doubt that Stephanie Perkins had written an amazing conclusion for the characters that we all know and love. A few hours - and a healthy dose of emotional turmoil - later, I found myself at the end. I didn't know whether to laugh or cry, though admittedly, I did a bit of both while reading.
Perkin's characters are so real. It's incredible how realistic and true-to-life they are, and how attached you get to them is a testament to her talent. And although she writes love stories, Perkins never shies away from the things that can hurt us in a relationship: friends not liking who we're with, jealousy, separation, significant others not getting along with our families, and the things we say to each other that - though meant well - can cut deep.
The writing, as per usual, flowed smoothly and read beautifully. And the appearance of some old favourite characters really was the cherry on top of a wonderful novel.
Final Thoughts: If you haven't already added Isla to your to-be-read list, I definitely recommend you do it now. Preferably right this second.