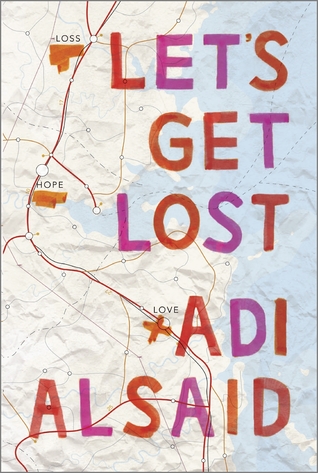 Author: Adi Alsaid
Pages: 352
Publisher: Harlequin
Format: Hardcover
My Rating: 3 out of 5 stars
Summary (from Goodreads): Five strangers. Countless adventures. One epic way to get lost.
Four teens across the country have only one thing in common: a girl named LEILA. She crashes into their lives in her absurdly red car at the moment they need someone the most.
There's HUDSON, a small-town mechanic who is willing to throw away his dreams for true love. And BREE, a runaway who seizes every Tuesday—and a few stolen goods along the way. ELLIOT believes in happy endings…until his own life goes off-script. And SONIA worries that when she lost her boyfriend, she also lost the ability to love.
Hudson, Bree, Elliot and Sonia find a friend in Leila. And when Leila leaves them, their lives are forever changed. But it is during Leila's own 4,268-mile journey that she discovers the most important truth— sometimes, what you need most is right where you started. And maybe the only way to find what you're looking for is to get lost along the way.
---
My Summary: Four strangers scattered across the United States find themselves on hilarious and sometimes heartbreaking adventures when a girl named Leila appears in their lives, ready to help anyone who needs a ride.
My Thoughts: This novel was a quick, fun end-of-summer read. I really liked the author's writing style, as well as the multi-narrative setup. I liked that although Leila was the "main character", we got to experience the story first through every other point of view - it kept me flipping pages, wanting to solve the mystery behind the girl with the red car.
This book made a great summer read. I loved the road-trip aspect, and the way the setting always subtly played into the character's story. All in all, a great read for someone looking for something light and fun to end the summer with.
Final Thoughts: I recommend this novel to anyone who enjoys contemporary lit - especially novels about road-trips.