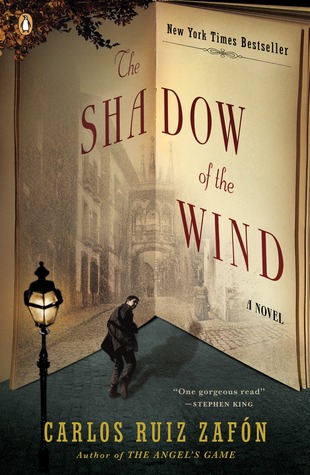 Author: Carlos Ruiz Zafon
Pages: 487
Publisher: Penguin
Format: Paperback
My Rating: 5 out of 5 stars
Summary (from Goodreads): Barcelona, 1945: A city slowly heals in the aftermath of the Spanish Civil War, and Daniel, an antiquarian book dealer's son who mourns the loss of his mother, finds solace in a mysterious book entitled The Shadow of the Wind, by one Julián Carax. But when he sets out to find the author's other works, he makes a shocking discovery: someone has been systematically destroying every copy of every book Carax has written. In fact, Daniel may have the last of Carax's books in existence. Soon Daniel's seemingly innocent quest opens a door into one of Barcelona's darkest secrets--an epic story of murder, madness, and doomed love.
---
My Summary: Following the death of his mother, Daniel's father reveals an ancient secret: a library hidden in the depths of Barcelona, known to a choice few as "The Cemetery of Forgotten Books". As a new member, Daniel is tasked with picking one novel from the library that he must swear to protect and guard for the rest of his life. Daniel chooses The Shadow of the Wind by Julian Carax - a tiny, seemingly unassuming novel that sets him off on an adventure encompassing fifty years of mystery, intrigue, and suspicion.
Someone is set on destroying every single copy of Julian Carax's work, and it seems as if nothing will stop them.
My Thoughts: I may be a little late to this party, but oh my goodness this book was AMAZING. I adored every second I spent delving into the twisted world of The Cemetery of Forgotten Books and 1950s Barcelona.
I loved the darker, grittier side of Barcelona we got to see through Daniel's eyes, The entire novel had a very gothic feel which fit perfectly with the story Zafon was spinning for the reader. The darker atmosphere made for an even more engaging, gripping read. Every word was reminiscent of prose; you can feel the author's love of words spilling from the page.
Carlos Ruiz Zafon is a master storyteller. He weaved this entire thing together so seamlessly that by the end, I had no idea whose story I was reading: Julian Carax's or Daniel's. I loved the parallels drawn between Julian and Daniel, and the way that Barcelona itself seemed to be included in the varied cast of characters. The whole novel was magic.
Final Thoughts: I definitely wholeheartedly recommend this novel to fans of gothic literature - especially those who enjoyed novels like The Thirteenth Tale by Diane Setterfield.