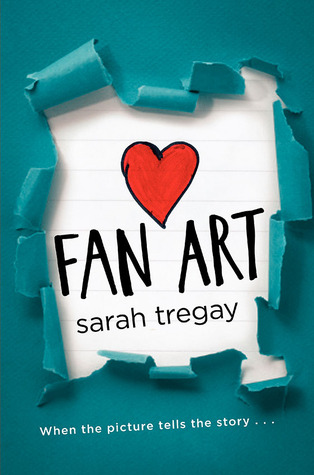 Author: Sarah Tregay
Pages: 368
Publisher: Katherine Tegen
Format: Hardcover
My Rating: 4 out of 5 stars
Summary (from Goodreads): Senior year is almost over, and Jamie Peterson has a big problem. Not college—that's all set. Not prom—he'll find a date somehow. No, it's the worst problem of all: he's fallen for his best friend.
As much as Jamie tries to keep it under wraps, everyone seems to know where his affections lie, and the giggling girls in art class are determined to help Jamie get together with Mason. But Jamie isn't sure if that's what he wants—because as much as Jamie would like to come clean to Mason, what if the truth ruins everything? What if there are no more road trips, taco dinners, or movie nights? Does he dare risk a childhood friendship for romance?
---
My Summary: Jamie Peterson is your average high school senior - he has a few good friends, is well-liked, and has the next few years all mapped out.
Except for the one thing he didn't foresee: Jamie fell in love with his best friend Mason. Mason, who Jamie has known for most of his life and who is probably not even into guys. Mason, who doesn't even know that Jamie is gay because Jamie has been too scared to tell him.
Jamie knows nothing good can come out of his crush on his best friend, but you can't control your feelings... and it almost seems as if Mason may be interested in Jamie as well. Can Jamie come out to his best friend and reveal the truth about his feelings, or will a few overly-zealous "fan girls" ruin any chance they may have - not only at a relationship, but at a friendship?
My Thoughts: This was an extremely bittersweet story about setting out for new things and figuring out how to bring the good parts of your old life along for the ride. Overall, I found it to be a great feel-good read with a lot of hope.
I really enjoyed the writing style - it was upfront and easy to follow and allowed Jamie's character to shine through.
I loved that Jamie's family was not only present, but also extremely supportive. I also really liked the way that the author wrote Jamie's inner monologue - she did a great job of embodying the crippling fear of rejection Jamie was facing, and the struggle to figure out his feelings for his best friend and how he was going to deal with them.
I also really liked the element of social justice, and the way that Jamie stood up for his and his friends' right to be represented equally in the school literary magazine - I think it's extremely important that readers see how important it is to stand up for what you believe and what you know is right.
Final Thoughts: I definitely recommend this novel to fans of contemporary lit and romance.