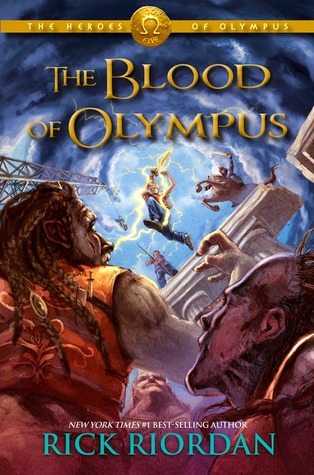 Author: Rick Riordan
Pages: 502
Publisher: Disney-Hyperion
Format: Hardcover
My Rating: 5 out of 5 stars
Summary (from Goodreads): Though the Greek and Roman crew members of the Argo II have made progress in their many quests, they still seem no closer to defeating the earth mother, Gaea. Her giants have risen—all of them—and they're stronger than ever. They must be stopped before the Feast of Spes, when Gaea plans to have two demigods sacrificed in Athens. She needs their blood—the blood of Olympus—in order to wake.
The demigods are having more frequent visions of a terrible battle at Camp Half-Blood. The Roman legion from Camp Jupiter, led by Octavian, is almost within striking distance. Though it is tempting to take the Athena Parthenos to Athens to use as a secret weapon, the friends know that the huge statue belongs back on Long Island, where it "might" be able to stop a war between the two camps.
The Athena Parthenos will go west; the Argo II will go east. The gods, still suffering from multiple personality disorder, are useless. How can a handful of young demigods hope to persevere against Gaea's army of powerful giants? As dangerous as it is to head to Athens, they have no other option. They have sacrificed too much already. And if Gaea wakes, it is game over.


---
This has probably been said a million times by now, but if you haven't picked up this series you are really missing out. I adore Rick Riordan's work, and every novel he's written has made its way onto my favourites shelf. The Heroes of Olympus is definitely a series worth checking out.
In the interest of not spoiling the last book for anyone, all I have to say about it is this: Rick Riordan does not disappoint with this last novel. It met my expectations and then surpassed them, encompassing everything I love about this genre. Percy and his friends are just as kick-ass as ever, and I'm going to miss them so much.
Final Thoughts: If I haven't convinced you by now, I'll try one last time: check out Rick Riordan's The Heroes of Olympus series. You will not be sorry you did.