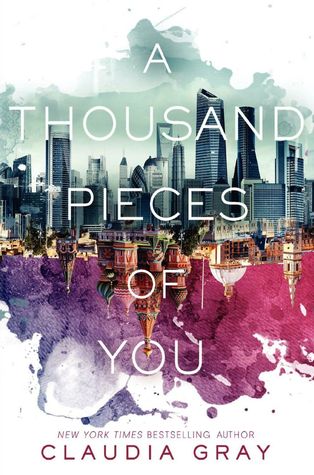 Author: Claudia Gray
Pages: 368
Publisher: Harper Teen
Format: Hardcover
My Rating: 4 out of 5 stars
Summary (from Goodreads): Marguerite Caine's physicist parents are known for their radical scientific achievements. Their most astonishing invention: the Firebird, which allows users to jump into parallel universes, some vastly altered from our own. But when Marguerite's father is murdered, the killer—her parent's handsome and enigmatic assistant Paul—escapes into another dimension before the law can touch him.
Marguerite can't let the man who destroyed her family go free, and she races after Paul through different universes, where their lives entangle in increasingly familiar ways. With each encounter she begins to question Paul's guilt—and her own heart. Soon she discovers the truth behind her father's death is more sinister than she ever could have imagined.
---
My Summary: Marguerite has seen impossible things. Her parents have bent the laws of time and space to their will, building a machine that will allow inter-dimensional travel.
But that's nothing new. Marguerite grew up knowing the extent of her parents' genius. What she didn't know was what it would cost their family.
After her father is killed and his killer escapes into the next dimension, Marguerite can only see one possible course of action: follow him.
And then end him.
But is Paul really the one responsible for her father's death, or could there be someone else at fault? And is she willing to risk Paul's life to find out?
My Thoughts: I'd seen so much about this one all over Goodreads that I knew I had to check it out eventually, and I'm so glad I did. It had me in its grip from start to finish.
A Thousand Pieces of You was a roller coaster ride of a novel. Marguerite was extremely easy to relate to, and the atmosphere of the novel hooked me from the very first page. Marguerite's artistic spirit and the lavish imagery of the descriptions painted a vivid picture of her world in my mind. The writing flowed beautifully and never lagged, making it feel like I'd only been reading for a few minutes when hours had passed.
This novel managed to encompass a few genres, but it never once felt like it was too much of one thing. The mystery, romance, and sci-fi elements were all blended perfectly, combining to form a story that never felt like a chore to read.
And I mean, come on. Look at that cover!
Final Thoughts: I definitely recommend this novel to anyone who enjoys sci-fi, and anyone looking for a refreshing romance. It was without a doubt one of my favourites of this year so far.