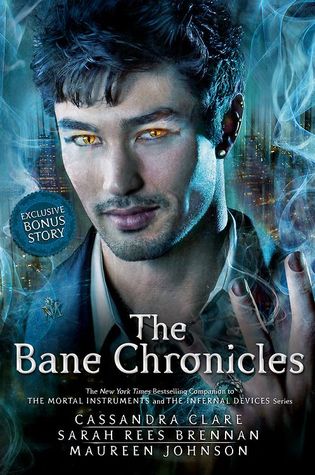 Author: Clare, Johnson, Brennan
Pages: 528
Publisher: Margaret K. McElderry
Format: Paperback (ARC)
My Rating: 4 out of 5 stars
Summary (from Goodreads): A collection of short stories by Cassandra Clare, Maureen Johnson, and Sarah Rees Brennan. Includes Vampires, Scones and Edmund Herondale; The Rise and Fall of the Hotel Dumort; Saving Raphael Santiago, What To Buy The Shadowhunter Who Has Everything (And Who You're Not Officially Dating Anyway) and more.









---
Disclaimer: I received a copy of this novel from the publisher in exchange for an honest and unbiased review.
My Summary: If you've ever wondered about Magnus Bane, then this is the book for you. Written by three of the funniest women in YA, this collection of short stories chronicles the colourful life of Magnus Bane before the Shadowhunters.
My Thoughts: I don't think I've ever laughed as hard as I did while reading this amazing collection of hilarious short stories. Since the very beginning of my obsession with Cassandra Clare's Shadowhunters, Magnus Bane has been one of my favourite characters. I was always a little frustrated about the lack of back-story we're given about Magnus, so the second I heard these stories were going to be released, I was giddy.
If you've ever read anything by Cassandra Clare, Maureen Johnson, or Sarah Rees Brennan, you know that every sentence any of them writes is bound to make you laugh and cry at the same time. Needless to say, I spent the entire novel in a fit of laughter.
I'm so glad we got to see more of Magnus, and I definitely can't wait for The Dark Artifices!
Final Thoughts: I recommend this novel to fans of Cassandra Clare's The Infernal Devices trilogy and The Mortal Instruments series.