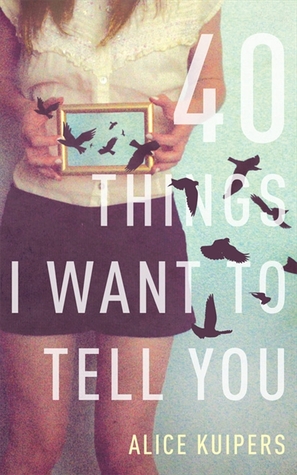 Author: Alice Kuipers
Pages: 286
Publisher: HarperTrophy
Format: Paperback
My Rating: 3 out of 5 stars
Summary (from Goodreads): Amy (a.k.a. Bird) seems to have the perfect life: loving parents, a hot boyfriend, the best friend ever. She even writes an online advice column, full of Top Tips, to help other teens take control of their lives. But after a new guy shows up at school, Bird can't seem to follow her own wisdom.
Pete is the consummate bad boy. He's everything Bird is not: wild, unambitious and more than a little dangerous. Although she knows he's trouble, Bird can't stay away. And the more drawn she is to Pete, the more cracks are revealed in her relationship with Griffin, her doting boyfriend. Meanwhile, her parents' marriage is also fracturing, possibly for good.
Bird is way out of her comfort zone. All it takes is one mistake, one momentary loss of control, for her entire future to be blown away ....
---
My Summary: Amy Finch - known as Bird to her family and friends - has everything under control.
She's a straight-A student, has a perfect boyfriend, perfect parents, and she knows how to take control of her life. Amy knows how to fix things, and she loves it: she runs a website where teens can go to get tips about how to take control of tricky situations.
But Amy feels herself losing control, and even though she keeps giving out advice on how to take control, she can't seem to follow any of it. How is this self-professed control-freak going to be able to fix everything after what she's done?
My Thoughts: I was enchanted by the cover. I saw it a few years ago and knew I had to get my hands on a copy eventually. Luckily, my local bookstore was having a bit of a sale and I snagged one of the last ones.
Kuiper's writing was absolutely captivating. I remember reading Life on the Refrigerator Door all in one sitting and crying my eyes out, so I expected nothing less from 40 Things. Bird was a very well-written character - I felt her stress and the way that everything began to overwhelm her. She made a few bad decisions but you could really understand what led her to make them, so it wasn't as frustrating as you would think.
I loved the advice column element, and the way that Amy opened up to her readers.
One thing that I feel like I need to clarify is the genre: this book is not a romance novel, although the description on the back may lead you to think so. This is a novel about finding the courage to do what's good for you when there are people all around you trying to force you to follow the path they chose for you.
This was not a very happy book, but one that wraps itself around your heart and doesn't let go.
Final Thoughts: I recommend this novel to anyone who enjoys contemporary lit as well as realistic fiction.