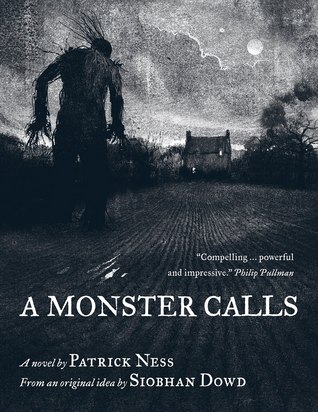 Author: Patrick Ness
Pages: 205
Publisher: Walker Books
Format: Hardcover
My Rating: 5 out of 5 stars
Summary (from Goodreads): The monster showed up after midnight. As they do.
But it isn't the monster Conor's been expecting. He's been expecting the one from his nightmare, the one he's had nearly every night since his mother started her treatments, the one with the darkness and the wind and the screaming...
This monster is something different, though. Something ancient, something wild. And it wants the most dangerous thing of all from Conor.
It wants the truth.
---
My Summary: Conor has been having the same nightmare for months - one that shocks him awake every night, shaking and covered in sweat. So when a monster appears outside his window, Conor reacts the way anyone who has been scared out of their wits would: he calmly converses with the creature, asking what it wants from him.
Because something else has been haunting Conor, and the monster outside his window is as cuddly as a puppy in comparison....
My Thoughts: I did not expect to enjoy this novel this much. Oh my goodness, it was AMAZING.
Conor was a great character. My heart went out to him as he suffered through the monster's visits and the ordeal of his mother's illness. This is the first novel I've read by Patrick Ness, and I can tell I've been missing out. His writing was lyrical and flowed beautifully - I seriously can't believe I waited so long to experience his writing first-hand (I've heard great things and own a few of his books, but they got lost in my TBR pile).
I really enjoyed the monster's stories. I think Patrick Ness should consider writing a collection of fairy tales like those the monster tells - I know I'd devour them gladly. The entire novel read like a dark, Grimm-brothers-style fairy tale, and I loved every minute. The atmosphere was perfectly composed and the simplicity of the novel made it hit you that much harder.
This review is not doing justice to this amazing novel, so I suggest you go out and pick up a copy so you can experience it yourself.
Final Thoughts: I definitely recommend this novel to anyone looking for a refreshing, unique read.