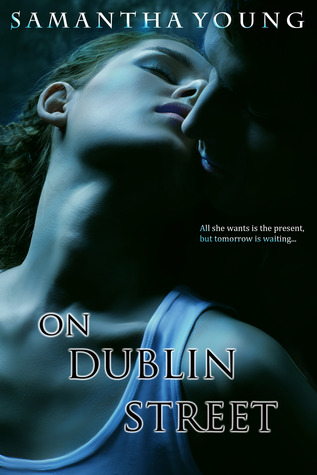 Author: Samantha Young
Pages: 414
Publisher: CreateSpace
Format: Paperback
My Rating: 3 out of 5 stars
Summary (from Goodreads): Jocelyn Butler has been hiding from her past for years. But all her secrets are about to be laid bare…
Four years ago, Jocelyn left her tragic past behind in the States and started over in Scotland, burying her grief, ignoring her demons, and forging ahead without attachments. Her solitary life is working well—until she moves into a new apartment on Dublin Street where she meets a man who shakes her carefully guarded world to its core.
Braden Carmichael is used to getting what he wants, and he's determined to get Jocelyn into his bed. Knowing how skittish she is about entering a relationship, Braden proposes an arrangement that will satisfy their intense attraction without any strings attached.
But after an intrigued Jocelyn accepts, she realizes that Braden won't be satisfied with just mind-blowing passion. The stubborn Scotsman is intent on truly knowing her… down to the very soul.


---
My Summary: Jocelyn - Joss - Butler has seen her fair share of drama. Four years after she packed up and left America for Scotland, things are finally going the way she wants them.
Until her roommate moves away, and Joss is left to scramble to find a place to live. She finds what appears to be the perfect apartment - and the perfect roommate - on Dublin Street. But her new friend comes with an added complication: a handsome and infuriating brother that Jocelyn can't seem to get out of her head.
My Thoughts: This was the first novel of Samantha Young's that I've ever read, and it was a really enjoyable experience. Jocelyn's story was heartbreaking, and I couldn't help but root for her and Braden. The family dynamic between the Carmichaels was endearing and heartwarming, and I loved the way they pulled together when things got bad.
The story grabbed me from the first few pages and kept me interested from start to finish.
The romance element was well done, and I definitely felt like the characters cared deeply about one another. I liked Ellie and Adam - I really hope they get their own installment in this series.
I also really liked that we got to see Jocelyn's interactions with her therapist - I think it really helped the reader to understand where she was coming from and why she reacted the way she did, even if they were bad reactions that made her seem unlikable. Props to Samantha Young for giving us a great set of characters.
Final Thoughts: I recommend this novel (and this series) to anyone who enjoys new adult romance.