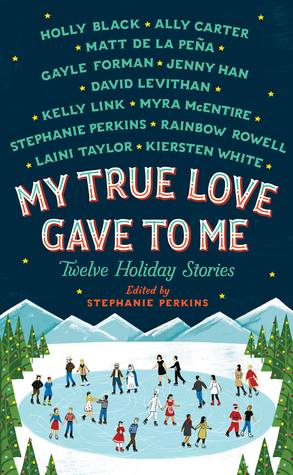 Pages: 320
Publisher: St. Martin's Press
Format: Hardcover
My Rating: 4 out of 5 stars
Summary (from Goodreads): On the first day of Christmas, my true love gave to me ...This beautiful collection features twelve gorgeously romantic stories set during the festive period, by some of the most talented and exciting YA authors writing today. The stories are filled with the magic of first love and the magic of the holidays.
---
This was a heartwarming read that I think anyone would enjoy - even those who have never read anything from the contributing authors before (which, let's be honest, you probably have). I tend to shy away from short stories because I feel like I don't get to know the characters as well as I'd like, but these stories never left me wanting more. Every one left me with a smile on my face and that cuddly feeling you get from watching tacky TV movies about the holidays. I loved every minute, and I think anyone who enjoys staying in and reading while it snows will find the perfect holiday companion in this anthology.