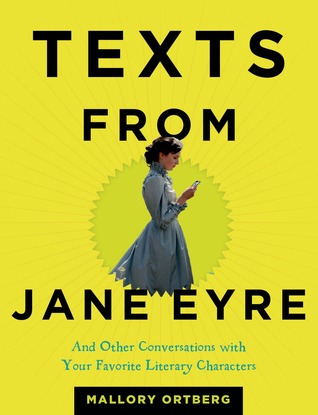 Author: Mallory Ortberg
Pages: 240
Publisher: Henry Holt & Co.
Format: Hardcover
My Rating: 4 out of 5 stars
Summary (from Goodreads): Mallory Ortberg, the co-creator of the cult-favorite website The Toast, presents this whimsical collection of hysterical text conversations from your favorite literary characters. Everyone knows that if Scarlett O'Hara had an unlimited text-and-data plan, she'd constantly try to tempt Ashley away from Melanie with suggestive messages. If Mr. Rochester could text Jane Eyre, his ardent missives would obviously be in all-caps. And Daisy Buchanan would not only text while driving, she'd text you to pick her up after she totaled her car. Based on the popular web-feature, Texts from Jane Eyre is a witty, irreverent mashup that brings the characters from your favorite books into the twenty-first century.


---
I'm going to keep this short and sweet: this book was fifty shades of hilarious. I don't think I've laughed that loudly and obnoxiously while reading a book in years - and I'm talking ugly laughs that make people think there are dying cats nearby. And if you're someone who loves literature and laughing, then you should get yourself a copy of Texts from Jane Eyre as soon as humanly possible.