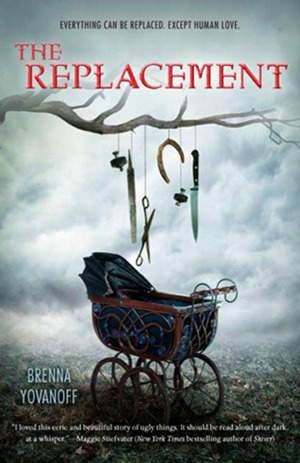 Author: Brenna Yovanoff
Pages: 343
Publisher: Razorbill
Format: Hardcover
My Rating: 4 out of 5 stars
Summary (from Goodreads):Mackie Doyle is not one of us. Though he lives in the small town of Gentry, he comes from a world of tunnels and black murky water, a world of living dead girls ruled by a little tattooed princess. He is a Replacement, left in the crib of a human baby sixteen years ago. Now, because of fatal allergies to iron, blood, and consecrated ground, Mackie is fighting to survive in the human world.
Mackie would give anything to live among us, to practice on his bass or spend time with his crush, Tate. But when Tate's baby sister goes missing, Mackie is drawn irrevocably into the underworld of Gentry, known as Mayhem. He must face the dark creatures of the Slag Heaps and find his rightful place, in our world, or theirs.
---
My Summary: Mackie is not your average teen. Sure, he goes to school and plays guitar and hangs out with friends, but Mackie spends every moment of every day making sure nobody guesses his secret: he's not human.
Now, struggling to survive, Mackie discovers where exactly he came from and what happened to the baby he replaced. The world of the Replacements is drawing him in, but Mackie wants nothing to do with them.
Until they threaten to take his sister, and he discovers that his friend's little sister may still be alive somewhere....
My Thoughts: This was a great read, although I wish I had read it around Halloween!
Mackie was a very well-developed character. I loved that he was so easy to relate to - especially his feelings of not quite belonging anywhere. And Tate was such a badass character! I really liked the way she refused to give in and refused to give up on her sister.
The town of Gentry itself almost felt like a character. I really liked the way that we got to see the crossover between the "underground" and the normal side of town. I loved the creepy atmosphere of the book itself, as well as the haunting descriptions of "The House of Mayhem".
Brenna Yovanoff's writing was - as usual - brilliant. The subtle way she weaved in the legends of the Changelings and the moral questions of sacrifice and what it means to be human added so many layers to the story and had me turning pages well into the night.
Final Thoughts: I recommend this novel to anyone who enjoys paranormal YA and urban fantasy,