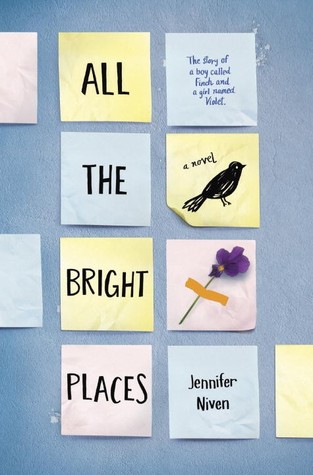 Author: Jennifer Niven
Pages: 384
Publisher: Knopf
Format: Hardcover
My Rating: 5 out of 5 stars
Summary (from Goodreads): Theodore Finch is fascinated by death, and he constantly thinks of ways he might kill himself. But each time, something good, no matter how small, stops him.
Violet Markey lives for the future, counting the days until graduation, when she can escape her Indiana town and her aching grief in the wake of her sister's recent death.
When Finch and Violet meet on the ledge of the bell tower at school, it's unclear who saves whom. And when they pair up on a project to discover the "natural wonders" of their state, both Finch and Violet make more important discoveries: It's only with Violet that Finch can be himself—a weird, funny, live-out-loud guy who's not such a freak after all. And it's only with Finch that Violet can forget to count away the days and start living them.

But as Violet's world grows, Finch's begins to shrink.


---
My Summary: Violet and Finch are complete strangers.
Violet has never been in trouble. She is well behaved, mature, and involved in plenty of extra-curriculars. Or at least she was, before the accident. After, the only thing that fills her days is the grief and guilt that comes with surviving something your best friend - your older sister - didn't.
Finch sees a day without detention as a day wasted. He is the embodiment of lazy, his untapped potential making him act out - or so his teachers think.
But the truth is, both Violet and Finch are struggling with mental illness. And it leads them to the same place: the school bell tower. From the ground, it looks like Violet is talking Finch off the ledge. Only they know the truth: Finch is the one who talked Violet down.
After their dramatic introduction, Finch and Violet begin to spend more time together, seeking out the "wonders" of their state for a school project. And it's on these trips that they begin to see each other for who they really are.
My Thoughts: This book was a punch to the gut and a kick to the emotions all packed into a deceptionally-cheerful package. I mean, come on! Post-it notes? I feel tricked, guys.
This book was my most anticipated read of 2015 so far. The minute I got my hands on a copy, I raced home to dive in. Four hours later I emerged with a broken heart and a serious case of the sniffles. The resulting book hangover was one for the record books. Violet and Finch were such layered, interesting, real characters that I couldn't help but love them both.
Jennifer Niven painted an incredibly vivid picture of the struggle to deal with mental illness. Finch's story cut me deeply: you could feel him losing control and trying so hard to take it back. The contrast between Violet's and Finch's worlds - and their respective mental states - really highlighted the difference that a strong support system can make when dealing with any sort of mental illness.
Niven's writing flowed beautifully. Every word and every sentence fit together so precisely that I forgot I was reading - it was as if the narrative was appearing ready-made inside my mind. Needless to say, I didn't put it down once.
Final Thoughts: There's nothing more I can say. You need to get yourself a copy of this beautiful, gut-wrenching novel and read it and cry. Rinse and repeat.