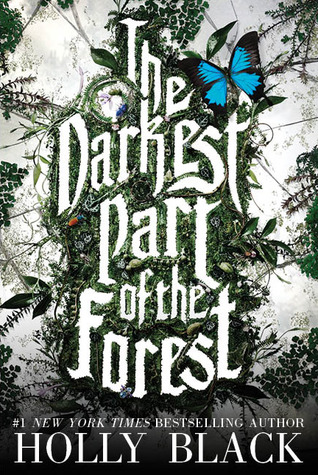 Author: Holly Black
Pages: 336
Publisher: Little, Brown
Format: Hardcover
My Rating: 4 out of 5 stars
Summary (from Goodreads): Children can have a cruel, absolute sense of justice. Children can kill a monster and feel quite proud of themselves. A girl can look at her brother and believe they're destined to be a knight and a bard who battle evil. She can believe she's found the thing she's been made for.
Hazel lives with her brother, Ben, in the strange town of Fairfold where humans and fae exist side by side. The faeries' seemingly harmless magic attracts tourists, but Hazel knows how dangerous they can be, and she knows how to stop them. Or she did, once.
At the center of it all, there is a glass coffin in the woods. It rests right on the ground and in it sleeps a boy with horns on his head and ears as pointed as knives. Hazel and Ben were both in love with him as children. The boy has slept there for generations, never waking.
Until one day, he does…
As the world turns upside down, Hazel tries to remember her years pretending to be a knight. But swept up in new love, shifting loyalties, and the fresh sting of betrayal, will it be enough?
---
My Summary: Hazel and her brother Ben have always loved the forest. Born in a town where faeries are a part of everyday life, the two of them have grown up dreaming of knights and bards and princes in a deep sleep. Together, they believe they can protect the town from any faeries that seek to cause harm to innocents.
But things are changing in Fairfold: once a sanctuary where only obnoxious tourists were harmed, the town has become a place where even the townspeople themselves can't protect themselves from the fae.
And just as things begin to take a turn for the worst, the unthinkable happens: the glass coffin is shattered, and the prince is awoken. Nobody knows who could be responsible, either - well, nobody except Hazel....
My Thoughts: Holly Black never fails to impress! I'd heard so much buzz about The Darkest Part of the Forest that I knew I had to pre-order it. I mean seriously, LOOK AT THAT COVER. Gorgeous, no?
Holly has always been a master world-builder, and this novel showcases her talents on another level. The atmosphere of the forest really added that extra creepy factor to the story - it was almost as if the forest itself was a character. You could feel the love that Ben and Hazel had for the forest, despite the way it terrified them.
Ben and Hazel themselves were incredible characters, with an amazingly well-written relationship. They had genuine love for one another, and the way they were always looking out for one another was incredibly sweet. I was rooting for both of them throughout the entire novel, hoping that each one got the happy ending they deserved.
I also loved the changeling element of the story. Jack was hilarious (can I have five of him please?). The twists and turns kept me hooked from start to finish, Holly's stories are always so complex and layered - I could've read two whole books on the Prince's story alone - while also managing to keep me flipping pages like a madwoman.
Final Thoughts: I recommend this novel to anyone who enjoys paranormal YA, fantasy, and urban fantasy novels, as well as fans of Holly Black's Modern Faerie series.