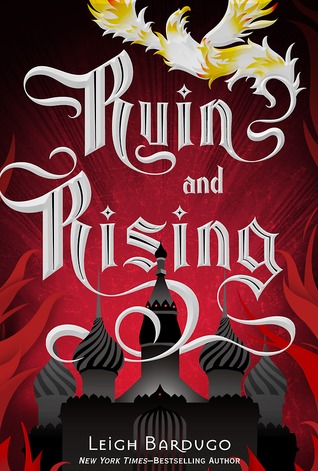 Author: Leigh Bardugo
Pages: 417
Publisher: Henry Holt & Co.
Format: Hardcover
My Rating: 5 out of 5 stars
Summary (from Goodreads): The Darkling rules Ravka from his shadow throne.
Now the nation's fate rests with a broken Sun Summoner, a disgraced tracker, and the shattered remnants of a once-great magical army.
Deep in an ancient network of tunnels and caverns, a weakened Alina must submit to the dubious protection of the Apparat and the zealots who worship her as a Saint. Yet her plans lie elsewhere, with the hunt for the elusive firebird and the hope that an outlaw prince still survives.


Alina will have to forge new alliances and put aside old rivalries as she and Mal race to find the last of Morozova's amplifiers. But as she begins to unravel the Darkling's secrets, she reveals a past that will forever alter her understanding of the bond they share and the power she wields. The firebird is the one thing that stands between Ravka and destruction—and claiming it could cost Alina the very future she's fighting for.


---
Tears. Tears everywhere. Ugly, gross tears too. Not the dainty cute kind.
This series has been such a joy to read - it's probably one of my favourite trilogies of all time. Everything was heartbreaking and wonderful and I couldn't stop reading until it was over and my poor little heart could rest.
And oh, the Darkling - my poor disturbed darling. He was amazing in this installment, but we also got to see a lot more complexity. I will love him forever, no matter how dark his soul is. Alina continued to kick ass, and Mal was pure sweetness. Nikolai was probably my favourite this time around, although Genya was a very close second. There were some amazing lines all around, and each of the characters deserves a long, comforting hug.
I recommend this trilogy to anyone and everyone who has ever enjoyed reading something paranormal, fantasy, or dystopian. Consider the fact that I ran out to the bookstore at the crack of dawn (they don't open at dawn, so more like nine in the morning, but STILL) and read each one in the same sitting, I'd say this series is well worth it.