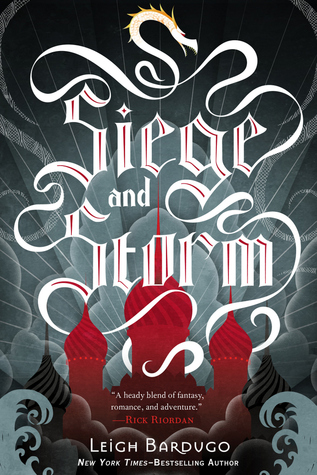 Author: Leigh Bardugo
Pages: 432
Publisher: Henry Holt & Co.
Format: Hardcover
My Rating: 5 out of 5 stars
Summary (from Goodreads): Hunted across the True Sea, haunted by the lives she took on the Fold, Alina must try to make a life with Mal in an unfamiliar land. She finds starting new is not easy while keeping her identity as the Sun Summoner a secret. She can't outrun her past or her destiny for long.
The Darkling has emerged from the Shadow Fold with a terrifying new power and a dangerous plan that will test the very boundaries of the natural world. With the help of a notorious privateer, Alina returns to the country she abandoned, determined to fight the forces gathering against Ravka. But as her power grows, Alina slips deeper into the Darkling's game of forbidden magic, and farther away from Mal. Somehow, she will have to choose between her country, her power, and the love she always thought would guide her--or risk losing everything to the oncoming storm.


---
I was terrified that the second book in the trilogy wouldn't live up to the first, but I need not have worried (or doubted Leigh Bardugo!).
The new characters were an amazing addition to the story. I absolutely adore the twins, and Nikolai is swoon-worthy to say the least. Just like the first in the series, this novel refused to be put down. I finished in just a little over five hours and had one of those "oh my gosh that was so good I don't even know what I'm supposed to be feeling right now" moments where you stare at nothing and attempt to compose yourself to no avail. Book hangover to the extreme, guys.
And oh my gosh, THAT ENDING. I just... I have no words. I still can't fully explain my feelings. Just do me a favour and grab yourself a copy of all three novels in this amazing trilogy. You won't regret it, I promise.