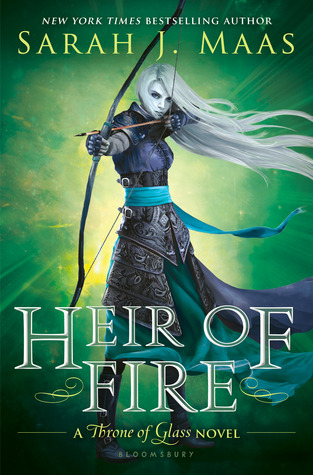 Author: Sarah J. Maas
Pages: 562
Publisher: Bloomsbury
Format: Hardcover
My Rating: 5 out of 5 stars
Summary (from Goodreads): Lost and broken, Celaena Sardothien's only thought is to avenge the savage death of her dearest friend: as the King of Adarlan's Assassin, she is bound to serve this tyrant, but he will pay for what he did. Any hope Celaena has of destroying the king lies in answers to be found in Wendlyn. Sacrificing his future, Chaol, the Captain of the King's Guard, has sent Celaena there to protect her, but her darkest demons lay in that same place. If she can overcome them, she will be Adarlan's biggest threat – and his own toughest enemy.
While Celaena learns of her true destiny, and the eyes of Erilea are on Wendlyn, a brutal and beastly force is preparing to take to the skies. Will Celaena find the strength not only to win her own battles, but to fight a war that could pit her loyalties to her own people against those she has grown to love?
---
This book had me alternating between cheering and wanting to scream. I loved Rowan and a lot of the new secondary characters - as usual, Sarah does do anything halfway when it comes to bringing her characters to life.
That ending made me furious, but in the interest of keeping this review spoiler-free, all I will say is this: WHY SARAH, WHY? Why would you do that to him?
On that note: this book tore out my heart and I gladly let it. Check out Sarah J. Maas' Throne of Glass series if you haven't already - and let me know when you finish so that we can discuss things in all-caps (that is seriously the only way to do it after reading this series). I'll definitely be pre-ordering the fourth installment as soon as possible, and you should too.