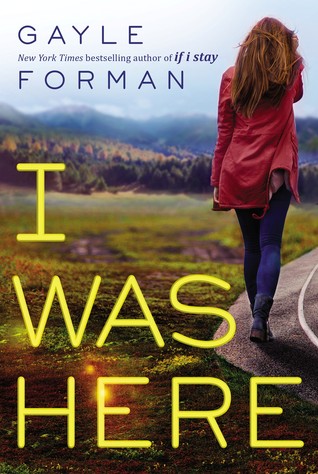 Author: Gayle Forman
Pages: 288
Publisher: Viking Juvenile
Format: Hardcover
My Rating: 4 out of 5 stars
Summary (from Goodreads):When her best friend Meg drinks a bottle of industrial-strength cleaner alone in a motel room, Cody is understandably shocked and devastated. She and Meg shared everything—so how was there no warning? But when Cody travels to Meg's college town to pack up the belongings left behind, she discovers that there's a lot that Meg never told her. About her old roommates, the sort of people Cody never would have met in her dead-end small town in Washington. About Ben McAllister, the boy with a guitar and a sneer, who broke Meg's heart. And about an encrypted computer file that Cody can't open—until she does, and suddenly everything Cody thought she knew about her best friend's death gets thrown into question.
---
My Summary: Meg and Cody are the kind of best friends that have never gone more than a day without speaking. But things become strained when Meg goes off to college, leaving Cody alone in their tiny. suffocating town.
The girls try to keep up their relationship, but things become difficult for both Meg and Cody. And when - after weeks of barely speaking - Meg commits suicide, Cody is forced to confront what it was that made Meg give up on everything, and figure out why Meg never confided in her.
My Thoughts: As usual, Gayle Forman's writing had me up late into the night, flipping pages like nobody's business. I've been a fan since If I Stay was one of the few contemporaries in the YA section (remember the Twilight days, guys?) and I have loved Gayle Forman's writing since then. It was like love at first sentence, really.
Cody was such a relatable character. Her jealousy and anger towards Meg were so easy to understand - despite loving them, sometimes we can't help but hate our best friends a little - and her heartbreak and feelings of betrayal when she found out Meg was hiding so much cut deep. And her disgust with herself when she starts to feel attracted to Ben was so heartbreaking, I just wanted to reach in and give the girl a hug.
Forman's writing flows incredibly well - there's something about her books that is just so smooth and readable. The pacing was also very well done, as well as the reveal of some key plot points. What really broke my heart about this novel was the strained relationship between Cody and Meg in Meg's final weeks. It's so easy to imagine a loved one with a mental illness struggling to find someone to reach out to when they think they've alienated the only people who care, and I think that's why the novel really hit home for me. We've all been felt Meg's heartbreak and that clawing emptiness at some point, even if it's not to the extent that appears in the novel.
Final Thoughts: I definitely recommend this book to fans of edgier contemporary YA and new adult novels, as well as fans of Gayle Forman's other work.