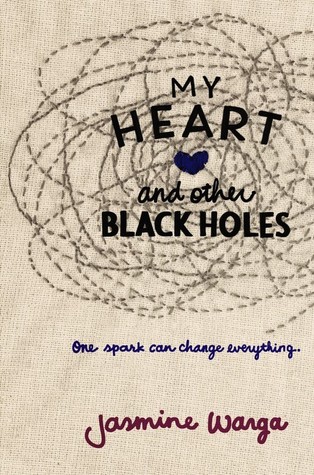 Author: Jasmine Warga
Pages: 320
Publisher: Balzer + Bray
Format: Hardcover
My Rating: 4 out of 5 stars
Summary (from Goodreads):Sixteen-year-old physics nerd Aysel is obsessed with plotting her own death. With a mother who can barely look at her without wincing, classmates who whisper behind her back, and a father whose violent crime rocked her small town, Aysel is ready to turn her potential energy into nothingness.
There's only one problem: she's not sure she has the courage to do it alone. But once she discovers a website with a section called Suicide Partners, Aysel's convinced she's found her solution--Roman, a teenage boy who's haunted by a family tragedy, is looking for a partner.


Even though Aysel and Roman have nothing in common, they slowly start to fill in each other's broken lives. But as their suicide pact becomes more concrete, Aysel begins to question whether she really wants to go through with it. Ultimately, she must choose between wanting to die or trying to convince Roman to live so they can discover the potential of their energy together.


---
My Summary: Aysel has been struggling with depression for as long as she can remember,
Sixteen and disenchanted with her existence, Aysel begins to plan for the end. She knows she won't be able to follow through on her own - as a woman of science, she knows how strong survival instincts are in homo sapiens - so she joins a website that connects "Suicide Partners".
Aysel is paired with Roman: someone who, on the surface, appears to have no reason to want to die. And as she tries to figure out her Suicide Partner and her own reasons for wanting to die, Aysel begins to change her mind, But will she be able to convince Roman to give life a second chance?
My Thoughts: This book was so many levels of perfection. I loved so many of the aspects (starting of course with the physics elements). One of my favourite things about this novel was the fact that it did not attempt to romanticize, instead showing it for what it really was. So many novels (both classical and contemporary) attempt to turn depression into an endearing quality, when so many people struggle with the ugly truth of it every day.
I adored that cover. It may appear simple, but it goes so well with the story.
The writing itself was extremely strong. Aysel's voice and narration is piercing - it hooks you and doesn't let go. I also really liked the way that Warga approached Aysel's changing her mind: she made it clear that Aysel was not "magically cured", and neither was Roman. Fighting depression means making the choice to get better every day, not just a single moment of "wow, I'm happy now".
One of my only complaints: I wish this book were longer! I wanted the story to continue past what we got to see (I'm trying not to spoil anything, but those who've read it already know exactly what I mean).
Final Thoughts: I recommend this novel to fans of contemporary lit, fiction, and romance. Fans of All the Bright Places by Jennifer Niven will definitely enjoy it.