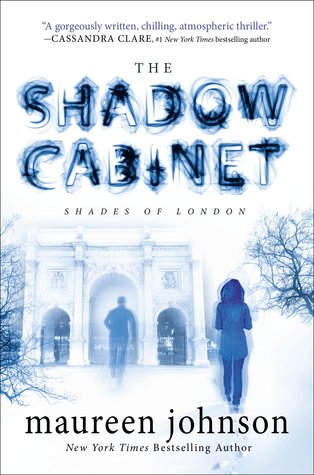 Author: Maureen Johnson
Pages: 384
Publisher: Putnam Juvenille
Format: Hardcover
My Rating: 5 out of 5 stars
Summary (from Goodreads): Rory and her friends are reeling from a series of sudden and tragic events. While racked with grief, Rory tries to determine if she acted in time to save a member of the squad. If she did, how do you find a ghost? Also, Rory's classmate Charlotte has been kidnapped by Jane and her nefarious organization. Evidence is uncovered of a forty-year-old cult, ten missing teenagers, and a likely mass murder. Everything indicates that Charlotte's in danger, and it seems that something much bigger and much more terrible is coming.



Time is running out as Rory fights to find her friends and the ghost squad struggles to stop Jane from unleashing her spectral nightmare on the entire city. In the process, they'll discover the existence of an organization that underpins London itself—and Rory will learn that someone she trusts has been keeping a tremendous secret.


---
This book embodied everything I have come to expect from Maureen Johnson and more: hilarity, action, more hilarity, badass ghost-fighting, and multiple moments of "ARE YOU KIDDING ME RIGHT NOW?!!". Needless to say, if you haven't checked out anything by Maureen Johnson... well, get on that, friend.
There is no way to review this novel without revealing some huge plot points, so all I will say is this: I enjoyed every minute of this installment, and Maureen did not disappoint when it came to upping the creepy-factor this time around. I had chills at points, and that is no small feat. The twins and their hijinks and their Gatsby-esque car... so much creepy. I loved every minute.
I am beyond excited for the fourth installment. If you haven't checked out the Shades of London series, I definitely recommend you do so - especially if, like me, you're a fan of cliffhangers that leave you in a state of "... WHAT?!" for weeks to come.