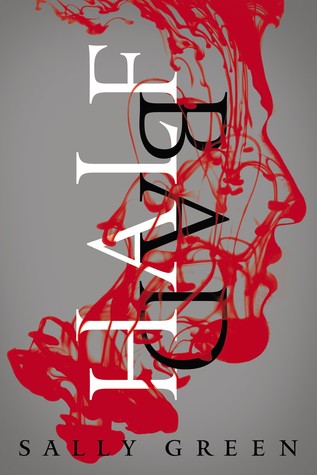 Author: Sally Green
Pages: 394
Publisher: Viking Books
Format: Hardcover
My Rating: 4 out of 5 stars
Summary (from Goodreads): Sixteen-year-old Nathan lives in a cage: beaten, shackled, trained to kill. In a modern-day England where two warring factions of witches live amongst humans, Nathan is an abomination, the illegitimate son of the world's most terrifying and violent witch, Marcus. Nathan's only hope for survival is to escape his captors, track down Marcus, and receive the three gifts that will bring him into his own magical powers—before it's too late. But how can Nathan find his father when there is no one safe to trust, not even family, not even the girl he loves?
---
My Summary: Nathan is not a bad person, but everyone seems to think he belongs in a cage.
Not figuratively - literally. At the age of fifteen, Nathan was taken from his home by a government agent and locked in a cage in the middle of nowhere. He spends his days reliving the memories he has of his childhood, trying not to go insane as he waits for the day his captor finally decides to kill him. All this is because of something Nathan can't control: the fact that he is half White witch and half Black witch.
His mother was a powerful White witch, and his father is the most dangerous Black witch ever to walk the Earth. But Nathan doesn't think he could be that bad of a guy, really.
Everybody has those days, right?
Nathan believes his only hope is to be rescued by his father, but Marcus doesn't seem to be in much of a hurry to save his only son. And on the day Nathan finally breaks free from his cage, he discovers there is no one left in the world he can trust.
My Thoughts: Oh man, my heart ached for Nathan. The poor kid went through so much, all because people were afraid of him and what he might become. They never allowed him any chance to prove them wrong, and I think that was probably what drove a lot of his behaviour. He had nothing left to lose, and it showed.
This novel was really original. It took me a few pages to really get into it, but once I did I was hooked. The premise had peaked my interest almost immediately - who doesn't love a good paranormal YA book about witches? - and the addictive writing style had me unable to put it down.
This book was a lot darker than I expected, but it was a fun detour from the more upbeat paranormal novels I tend to go for. I blew through this novel in just a few hours and immediately picked up the sequel, so you know this is a series you'll fall in love with immediately.
Final Thoughts: I recommend this novel to fans of fantasy and urban fantasy novels, as well as those who enjoy paranormal YA.