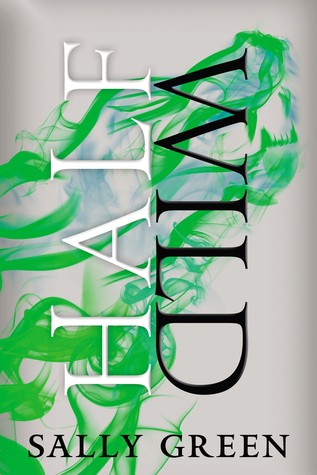 Author: Sally Green
Pages: 400
Publisher: Viking Juvenile
Format: Hardcover
My Rating: 4 out of 5 stars
Summary (from Goodreads): In a modern-day England where two warring factions of witches live amongst humans, seventeen-year-old Nathan is an abomination, the illegitimate son of the world's most powerful and violent witch. Nathan is hunted from all sides: nowhere is safe and no one can be trusted. Now, Nathan has come into his own unique magical Gift, and he's on the run--but the Hunters are close behind, and they will stop at nothing until they have captured Nathan and destroyed his father.
---
My Summary: Nathan is on the run.
Again.
And it's not like he doesn't know why: his father is being hunted, he's being hunted, and there's a pack of Hunters led by his hateful half-sister bent on ensuring his destruction. Not to mention that he's being blackmailed by his great-aunt - a powerful Black witch - and if he doesn't kill his father for her, she'll let the girl he loves die.
Nathan needs help, and he needs it bad. Struggling with his new Gift, he can't seem to figure out what is real and what isn't. And on a cheerier note: his best friend may be dead because of him and the love of his life is on the brink of death.
Nathan's running out of time, and the only person who can give him any answers is his father.
Too bad he wants him dead.
My Thoughts: This book is dark, and I don't mean "oh there's a touch of violence", I mean it's seriously dark. Half Wild picks up right where the first installment left off, with Nathan alone and afraid and in a ton of trouble. He's waiting for Gabriel at their agreed meeting spot, but it's been weeks and there's been no sign of him. Gabriel was my favourite character from Half Bad, so this was a tad bit upsetting. I mean come on, why are my faves always dying?
Sally Green's writing continued to enthrall me throughout this installment, although it did feel a little different for the first few chapters. Once I was a few chapters in the feeling was gone, so rest assured this novel does not drop the ball.
And if you thought Half Bad was gritty and violent, then Half Wild is gonna offend your sensibilities.
I loved getting to see Nathan's Gift (finally!) and the way he shifted into the altered point of view when he was using it. I also really liked that we get to see a bit of interaction between Nathan and Marcus, as well as some old faces from book one. And did I mention the badass fight scenes? I should've probably mentioned the badass fight scenes. This book is jam-packed with action and surprises and wow you really should check out this series because I really don't know what else to say to convince you.
Final Thoughts: Do yourself a favour and buy both installments of the series in one fell swoop - you'll save yourself a lot of time and a trip to the bookstore, as well as a few hours of book-hangover where you wished you had the next installment. Seriously, check it out!