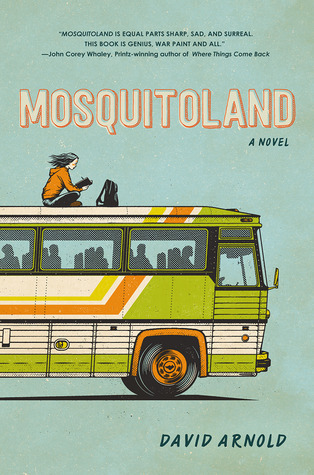 Author: David Arnold
Pages: 352
Publisher: Viking Books
Format: Hardcover
My Rating: 4 out of 5 stars
Summary (from Goodreads): After the sudden collapse of her family, Mim Malone is dragged from her home in northern Ohio to the "wastelands" of Mississippi, where she lives in a medicated milieu with her dad and new stepmom. Before the dust has a chance to settle, she learns her mother is sick back in Cleveland.
So she ditches her new life and hops aboard a northbound Greyhound bus to her real home and her real mother, meeting a quirky cast of fellow travelers along the way. But when her thousand-mile journey takes a few turns she could never see coming, Mim must confront her own demons, redefining her notions of love, loyalty, and what it means to be sane.
---
My Summary: Mim has lost a lot in the past few months. First, her mind. Second, her family. And now her home.
When Mim is forced to move to Mississippi with her father and stepmother, she decides she won't take it lying down. She acts up at school and doesn't bother controlling her anger, unable to adapt to a life that is so different from the one she left behind.
But when Mim finds out her mom is sick back in Cleveland and that her stepmom has been keeping her letters from Mim, she explodes. She grabs a few things and sets off, determined to get home to Cleveland to see her mom, consequences be damned.
My Thoughts: This book has been on my TBR for months and when I came across it in the airport bookstore, I knew it was a sign. A few hours and multiple laugh out loud moments later, I found myself blinking at the world around me in that book-hangover way that only follows when you're completely submerged in a novel. I loved every second of Mim's journey.
I'm incredibly impressed by the author's way with words. Mim's narratives tugged at my heartstrings (even when they were a tad morbid) and read like the ramblings of someone who knew what it was like to take a slight detour from sanity. Mim was an unreliable narrator with a lot of secrets, but her observations and unique descriptions of the world around her all rang with truth. This novel seems to ask the question: when do quirks and personality traits go from being a normal part of life to the symptoms of a mental illness?
I loved the supporting characters (Walt! My heart!) and Mim's moments of clarity were very well-executed. It's so hard to review this novel in a way that makes sense, but believe me when I say you're gonna wanna read this one ASAP.
Final Thoughts: I recommend this book to fans of contemporary YA as well as those looking for a great road-trippy summer read.