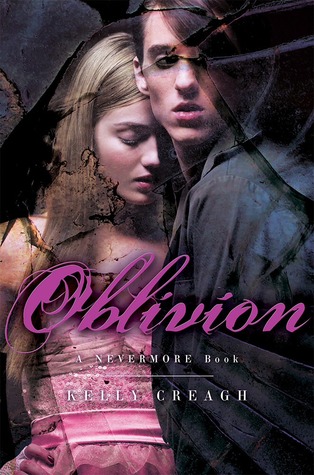 Author: Kelly Creagh
Pages: 448
Publisher: Atheneum Books
Format: Hardcover (ARC)
My Rating: 5 out of 5 stars
Summary (from Goodreads): The boundaries which divide Life from Death are at best shadowy and vague. Who shall say where the one ends, and where the other begins? —Edgar Allan Poe.
The fine line between life and death blurred long ago for Isobel Lanley. After a deadly confrontation with Varen in the dreamworld, she's terrified to return to that desolate and dangerous place. But when her nightmares resume, bleeding into reality, she is left with no choice. Varen's darkness is catching up to her. To everything.

Threatening to devour it all. Isobel fears for her world. For her sanity and Varen's—especially after a fresh and devastating loss. To make matters worse, the ghostly demon Lilith wants Varen for her own, and she will do anything to keep him in her grasp—anything.
---
SO MANY FEELINGS. MY HEART CAN'T TAKE IT.
Oh my gosh, I was so worried that Oblivion wouldn't live up to my incredibly high expectations for the series, but it did and then some - it shattered them, then ground those pieces into dust. Kelly Creagh broke my heart so many times with this gem and I am so in love with this story and Edgar Allan Poe and just everything. This book was perfect and this series was amazing and I definitely recommend you check it out!