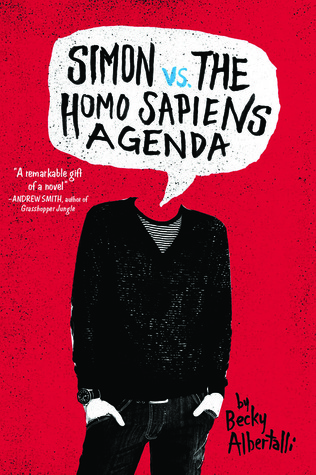 Author: Becky Albertalli
Pages: 303
Publisher: Balzer + Bray
Format: Hardcover
My Rating: 4 out of 5 stars
Summary (from Goodreads): Sixteen-year-old and not-so-openly gay Simon Spier prefers to save his drama for the school musical. But when an email falls into the wrong hands, his secret is at risk of being thrust into the spotlight. Now Simon is actually being blackmailed: if he doesn't play wingman for class clown Martin, his sexual identity will become everyone's business. Worse, the privacy of Blue, the pen name of the boy he's been emailing, will be compromised.
With some messy dynamics emerging in his once tight-knit group of friends, and his email correspondence with Blue growing more flirtatious every day, Simon's junior year has suddenly gotten all kinds of complicated.

Now, change-averse Simon has to find a way to step out of his comfort zone before he's pushed out—without alienating his friends, compromising himself, or fumbling a shot at happiness with the most confusing, adorable guy he's never met.
---
My Summary: Simon is pretty sure he's an average kid. He gets decent grades, he has some great friends, and he spends a lot of time in drama club productions. Sure, he's gay, but what does that have to do with anything?
Nothing at all, until Simon accidentally leaves his email open on a school computer and someone reads his correspondence with his crush - someone who goes by the screen-name "Blue". Soon Simon finds himself being blackmailed and doing some ridiculous things - all in an attempt to protect Blue as well as himself from being outed to the entire school.
My Thoughts: This book was so much fun. Simon was so relatable and his narration was hilarious. I loved the dynamic of his family as well as his friend group - it was all incredibly realistic. (Trust me on this one, I was one of those drama kids once).
Simon's struggle to keep Blue's identity safe (while at the same time trying to figure it out himself) was so endearing. I loved the whole secret-admirer element, and the way Becky Albertalli nailed the way it feels to swoon over someone you've only known as text on a screen. Simon himself was so awkward and funny and witty and spent so much time in his own head that large parts of this novel read like my old high school diary entries.
I also really liked the way the family aspect wasn't overlooked in this novel. Especially with things like coming out, the support - or lack thereof - you receive from your family can make all the difference. It was good to see the author not only include Simon's family in his life but make it a large part of the story.
Final Thoughts: Read this book. ASAP. Seriously.