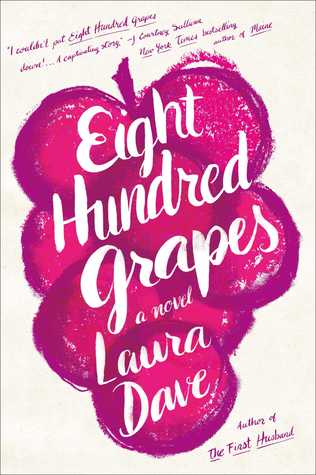 Author: Laura Dave
Pages: 260
Publisher: Simon & Schuster
Format: Hardcover
My Rating: 4 out of 5 stars
Summary (from Goodreads): There are secrets you share, and secrets you hide…
Growing up on her family's Sonoma vineyard, Georgia Ford learned some important secrets. The secret number of grapes it takes to make a bottle of wine: eight hundred. The secret ingredient in her mother's lasagna: chocolate. The secret behind ending a fight: hold hands.
But just a week before her wedding, thirty-year-old Georgia discovers her beloved fiancé has been keeping a secret so explosive, it will change their lives forever.
Georgia does what she's always done: she returns to the family vineyard, expecting the comfort of her long-married parents, and her brothers, and everything familiar. But it turns out her fiancé is not the only one who's been keeping secrets…
---
Disclaimer: I received a copy of this novel from the publisher in exchange for an honest and unbiased review.
My Summary: Georgia's childhood was idyllic. Growing up in a beautiful corner of California known for its vineyards and elite winemakers, Georgia was no stranger to the natural beauty of her home. Home was where she knew she was safe, protected by her two older brothers and her loving parents.
So when everything in Georgia's life begins to fall apart, she doesn't think twice before driving the eight hours to her family home. In fact, she doesn't even stop to take off the wedding dress.
But when she arrives, Georgia realizes that her life may not be the only thing falling to pieces - her parents' marriage, her brothers' relationships with one another, and the failing family vineyard take her mind off her own problems and restore her to her roots. Can she keep it all together and fix everything wrong in her family life, or are the last remaining pieces of her childhood - the vineyard and her unchanging family - destined to be lost forever?
My Thoughts: A book about wine? Uh, need I say more?
I've never read a novel of Laura Dave's, but after Eight Hundred Grapes I know I'll be picking up every single one. Dave's writing was wondrous, and Georgia's voice was like that of an old friend - comforting and warm. I loved the way the story was told in alternating chapters of past and present - it really allowed for each new tidbit of information to sink in, and for the reader to understand every aspect of each character's story.
I loved that the family aspect was such a big part of the novel, and that Georgia's personality was so visibly shaped by her family life. What do you do when what you built your entire life on - the knowledge that your parents loved each other beyond reason - turns out to not be as true as you once believed? Georgia's reaction to her family breaking up was understandable and heartbreaking: Dave managed to articulate the way that no matter how old we are, we will always feel five years old when it comes to our parents.
And I know I said it before, but I really loved the Dave's writing. Her way with words had me reading the same passage over and over again, marveling at the beauty of the sentences and the way the words fit together. One word: synchronization.
Final Thoughts: I definitely recommend this novel to fans of contemporary romance as well as those looking for an intelligent summer read. If you haven't already, check it out!