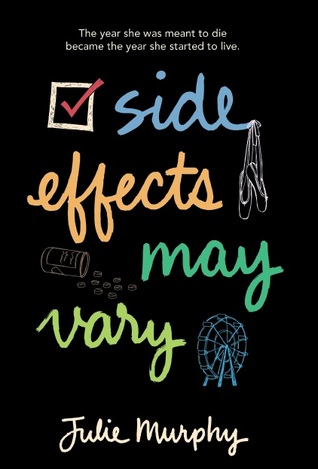 Author: Julie Murphy
Pages: 336
Publisher: Balzer + Bray
Format: Hardcover
My Rating: 4 out of 5 stars
Summary (from Goodreads):When sixteen-year-old Alice is diagnosed with leukemia, her prognosis is grim. To maximize the time she does have, she vows to spend her final months righting wrongs—however she sees fit. She convinces her friend Harvey, who she knows has always had feelings for her, to help her with a crazy bucket list that's as much about revenge (humiliating her ex-boyfriend and getting back at her archnemesis) as it is about hope (doing something unexpectedly kind for a stranger). But just when Alice's scores are settled, she goes into remission.
Now Alice is forced to face the consequences of all that she's said and done, as well as her true feelings for Harvey. But has she caused irreparable damage to the people around her—and to the one person who matters most?


---
My Summary: Alice knew her life wasn't exactly perfect before she got cancer, but it was pretty damn close. She had everything she could have ever wanted, and she knew exactly how to get where she wanted to go.
But when they found the cancer, her whole life fell apart. With death snapping at her heels, Alice decides to right some wrongs and get back at those who have hurt her and the people she cares about. She recruits her best friend Harvey to help get the job done, and soon the list is complete.
As Alice nears the end of her fight with cancer, it appears that she has nothing left to do. She's ready to go, knowing that she made the world a better place before she left it.
Until she receives what should be the best news of her life: she's in remission, and her cancer is gone.
She's going to live. And unfortunately for Alice, living means facing up to the things she did and said when she thought she had nothing to lose.
My Thoughts: I've seen a lot of mixed reviews about this novel, so I'm going to start with my overall impression of the novel and work my way into specifics. Personally, I enjoyed the novel. It was a solid contemporary read with good characterization - the characters were realistic and dynamic - and great writing that kept me hooked. I was up well into the night reading, hoping for a happy ending for Alice and Harvey.
I feel like most people have a common issue with the novel: Alice herself. Alice was one of those characters that you wish the best for, but every time they make a horrible decision you can't help but shake your head. Alice's treatment of Harvey in particular made me cringe more than a few times, and my heart went out to the poor guy. However this was not enough to make me dislike the novel as adamantly as some other readers. We're so used to reading novels where we connect with the main character and wish all the best for them, but to me that was more Harvey than anything. I felt as if Alice was meant to be disliked, and that - as she notes herself - the only redeeming qualities Alice had were qualities she displayed when Harvey was around.
And that's okay, I think. Some characters are just like that. But even the most frustrating characters deserve their happily ever after, right?
I really enjoyed the writing style and the way the author built Alice and Harvey's lives throughout the novel using flashbacks. Alice's voice was clear and sharp and kept me on my toes, crossing my fingers that everything would work out all right in the end. The plot flowed smoothly and the timing was well-executed, but I found myself connecting more to Harvey than to Alice herself - Alice had a mean streak that went a little far at times, but the novel was enjoyable nonetheless.
Final Thoughts: I recommend this novel to anyone who enjoys edgier contemporary romance.