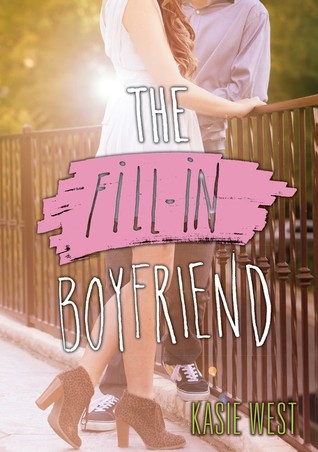 Author: Kasie West
Pages: 352
Publisher: HarperTeen
Format: Paperback
My Rating: 3.5 out of 5 stars
Summary (from Goodreads): When Gia Montgomery's boyfriend, Bradley, dumps her in the parking lot of her high school prom, she has to think fast. After all, she'd been telling her friends about him for months now. This was supposed to be the night she proved he existed. So when she sees a cute guy waiting to pick up his sister, she enlists his help. The task is simple: be her fill-in boyfriend—two hours, zero commitment, a few white lies. After that, she can win back the real Bradley.
The problem is that days after prom, it's not the real Bradley she's thinking about, but the stand-in. The one whose name she doesn't even know. But tracking him down doesn't mean they're done faking a relationship. Gia owes him a favor and his sister intends to see that he collects: his ex-girlfriend's graduation party—three hours, zero commitment, a few white lies.
Just when Gia begins to wonder if she could turn her fake boyfriend into a real one, Bradley comes waltzing back into her life, exposing her lie, and threatening to destroy her friendships and her new-found relationship.
---
My Summary: Gia couldn't wait to go to prom. Besides the fact that she was going to get to dress up and dance all night, Gia would finally get the opportunity to introduce her boyfriend Bradley to her three best friends and her frenemy. So when Bradley arrives at prom only to dump Gia and take off before anyone actually sees him, she knows she's royally screwed.
Thinking on her feet, Gia manages to convince a total stranger to pretend to be her boyfriend for the night. Taking pity on her, the guy agrees, convincing everyone he's Bradley and madly in love with Gia. At the end of the night he disappears without even a name, leaving Gia to wonder who exactly her knight in shining armour really was.
She searches high and low, finally managing to dig up her rescuer's name. And when she confronts him, he asks her to return the favour: pretend to be his girlfriend for the night to make his ex jealous.
Gia agrees, but soon life begins to imitate art, and she finds herself falling for him.
The lies start to catch up with her, and as Gia struggles to hold everything together, her fill-in boyfriend shows her there's more to life than putting on a happy face and pretending everything is alright.
My Thoughts: This was one of those contemporary YA romances that feels like a big warm hug. I read this novel all in one sitting and loved every minute, cheering for Gia and Hayden the entire time.
Gia grows a lot over the course of the novel, going from someone who worried about highschool petty drama to someone who wanted to mature and change. She recognizes her shortcomings as a friend and a person and works to fix them, even if she isn't quite forgiven by all those she seeks forgiveness from. Hayden was a great character, and his sister Bec was probably my favourite overall. The two main characters had a lot of chemistry, and the entire fake-boyfriend situation added an element of humour to the romance, keeping it from feeling too serious.
The writing was perfect, and the plot flowed wonderfully. I never felt like things were lagging, or that the pace was inappropriate. Kasie West definitely knows how to keep me hooked,
And look at that cover! So glad I have a copy of my own to swoon over.
Final Thoughts: I recommend this novel to anyone looking for a cute contemporary romance or just a great summer read.