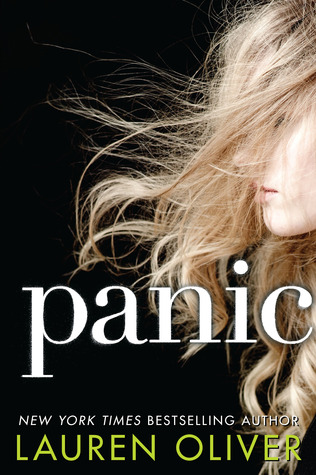 Author: Lauren Oliver
Pages: 408
Publisher: HarperCollins
Format: Hardcover
My Rating: 4 out of 5 stars
Summary (from Goodreads): Panic began as so many things do in Carp, a dead-end town of 12,000 people in the middle of nowhere: because it was summer, and there was nothing else to do.
Heather never thought she would compete in Panic, a legendary game played by graduating seniors, where the stakes are high and the payoff is even higher. She'd never thought of herself as fearless, the kind of person who would fight to stand out. But when she finds something, and someone, to fight for, she will discover that she is braver than she ever thought.
Dodge has never been afraid of Panic. His secret will fuel him, and get him all the way through the game, he's sure of it. But what he doesn't know is that he's not the only one with a secret. Everyone has something to play for.
For Heather and Dodge, the game will bring new alliances, unexpected revelations, and the possibility of first love for each of them—and the knowledge that sometimes the very things we fear are those we need the most.


---
My Summary: Heather has grown up watching the seniors in her tiny town compete in Panic: a high-stakes game where winning means getting the hell out of Carp, and losing could mean losing everything. She's never wanted to compete before - she's smart, and she knows it isn't worth the risk - but everything is falling apart, and winning Panic would ensure that Heather and her sister can escape their disastrous home life.
Dodge has been training for Panic since the day his sister entered four years earlier. He's determined to win no matter what the cost, and nothing is going to stop him - not even his new-found friendship with Heather, or his crush on her beautiful best friend.
Because Dodge isn't playing Panic for the money - he's playing for revenge.
My Thoughts: I'd heard about Panic before, but I'd never had the chance to pick it up. A few weeks ago I was strolling through Barnes & Noble and spotted the hardcover tucked behind a few copies of Vanishing Girls. I pulled it out, finally intent on buying it - and couldn't have been happier about my decision. I hadn't noticed until after I checked out, but the book was signed by Lauren Oliver. Total score, right? I was pumped to read it after that, but I was slightly nervous because I didn't want to be disappointed after all that build-up.
I really shouldn't have been worried, because Lauren Oliver never fails to impress.
I fell in love with Panic less than twenty pages in. Heather's voice and the unique premise had me hooked, wondering how the heck such a dangerous game could be played and how it was supposed to end well for her. There were so many heart-wrenching moments and Oliver's writing is haunting. The way her sentences fit together and the words flow like prose hook me every time I pick up one of her novels.
One of my favourite things about Lauren Oliver's novels is that you never really know who to root for, and it's almost impossible to predict how things are ultimately going to play out. I didn't like Dodge in the beginning, and halfway through the second last chapter I still didn't know how I felt about him. Same goes for Heather and Bishop (okay, not so much Bishop. He was a sweetheart despite his flaws). Heather's growth throughout the novel was inspirational, and her resolve to take care of her sister no matter the cost had me teary-eyed more than a few times.
Final Thoughts: I recommend this novel to fans of contemporary lit as well as action. Faced-paced and full of suspense, this is one book you definitely don't want to miss.