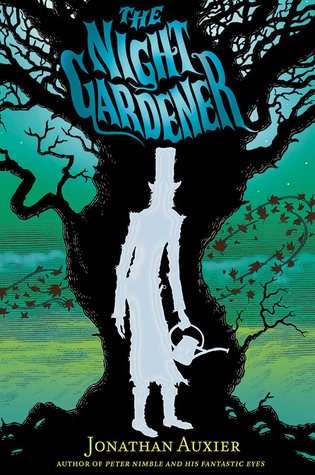 Author: Jonathan Auxier
Pages: 350
Publisher: Amulet Books
Format: Hardcover
My Rating: 5 out of 5 stars
Summary (from Goodreads): The Night Gardener follows two abandoned Irish siblings who travel to work as servants at a creepy, crumbling English manor house. But the house and its family are not quite what they seem. Soon the children are confronted by a mysterious specter and an ancient curse that threatens their very lives.
---
My Summary: Molly and Kip have not had easy lives. After leaving Ireland during the famine and being separated from their parents, the two children have no choice but to search for work. Luckily, Molly is able to secure a position as a maid in a grand Victorian mansion, and life begins to look a little better.
Starving and tired, they come upon their future home to find that their employer appears to be hiding more than a few secrets. And these secrets are not only affecting his entire family, but Molly and Kip as well. With nowhere to go and no way to escape what is happening to them, the children decide there is only one thing to do: discover the secrets their employer is hiding, solve the mystery, and save not only their lives, but the lives of the family that took them in.
My Thoughts: I had no idea what to expect when I picked this novel up in the grocery store, but I was certain that it would be just what I needed to get out of my reading slump. There's something about the combination of middle grade novels and Gothic mysteries that gets to me every time, and this book was no exception - the way that the eerie settings and the suspense are woven together so seamlessly pull you back to that age where you were sure there were ghosts and monsters lurking behind every closed door.
Auxier's writing pulled me into Molly and Kip's story and had me on the edge of my seat, hoping for the best for them. I felt a lot of Edgar Allan Poe coming from this novel as well, which definitely added to my love of the story. Stories themselves seem to take on a life of their own and become characters themselves, as Molly and Kip soon learn.
The atmosphere of this novel was expertly crafted, and the plot twisted and turned beautifully. I adored every minute I spent enchanted by The Night Gardener.
Final Thoughts: Go out and get yourself a copy of this amazing book as soon as possible. Read it in the dark - under the covers - and prepare to be creeped out.