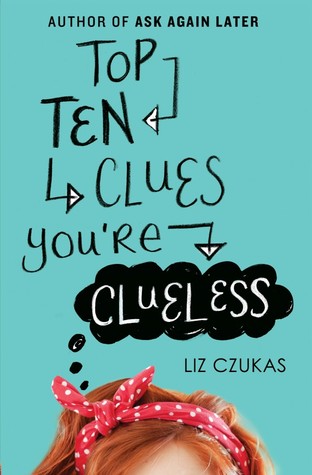 Author: Liz Czukas
Pages: 289
Publisher: Harper Teen
Format: Paperback
My Rating: 3 out of 5 stars
Summary (from Goodreads): Top Five Things That Are Ruining Chloe's Day:
5) Working the 6:30 a.m. shift at GoodFoods Market
4) Crashing a cart into a customer's car right in front of her snarky coworker Sammi
3) Trying to rock the "drowned rat" look after being caught in a snowstorm
2) Making zero progress with her crush, Tyson (see #3)
1) Being accused—along with her fellow teenage employees—of stealing upwards of $10,000
Chloe would rather be anywhere than locked in work jail (aka the break room) with five of her coworkers . . . even if one of them is Tyson. But if they can band together to clear their names, what looks like a total disaster might just make Chloe's list of Top Ten Best Moments.
---
My Summary: Chloe has been working at GoodFoods Market since she moved to town a few months ago. It's a boring job, and it's definitely not intellectually stimulating, but it pays well.
And on a completely unrelated note: her coworker Tyson is gorgeous.
Arriving at 6:30 in the morning on Christmas Eve for her last shift before the holidays begin, Chloe hopes the day will pass quickly and without incident. After all, it's almost Christmas. How bad could things get?
Unfortunately for Chloe, the answer is horrible. Along with her fellow teen coworkers, she's suspected of stealing tens of thousands of dollars from the charity collection box.
Locked in the break room against their wills, Chloe and her coworkers - who might as well be complete strangers, for all she really knows about them - must band together and figure out a way to clear their names before all of their Christmases are ruined.
My Thoughts: This was such a fun read! It felt like I had just begun when I checked how many pages I had remaining and realized I was five pages from the end. Chloe was an extremely relatable main character, and her friends were each unique, complex, and well-written. I loved Chloe's habit of list-writing - not gonna lie, I do it constantly too - and the fact that she messed up. A lot. Main characters who never mess up are almost impossible to connect with, so Chloe's mistakes made it easy to like her. She was also incredibly awkward and quirky, which always makes me love a character even more.
The mystery aspect was really fun, although I more enjoyed the way the coworkers connected with each other throughout the night. It felt very Breakfast Club, but not in a cliche way. Each one of Chloe's coworkers brought another element to the group, and by the end of the night it was hard not to love every one of them.
Czukas definitely has some insight into the mind of a teenager. The humour was spot on, and I found myself laughing out loud more than a few times.
Final Thoughts: This was a very quick read, but it was cute and fun and had everything you could want in a contemporary YA novel. I recommend it to fans of romance, as well as fans of Sarah Dessen.