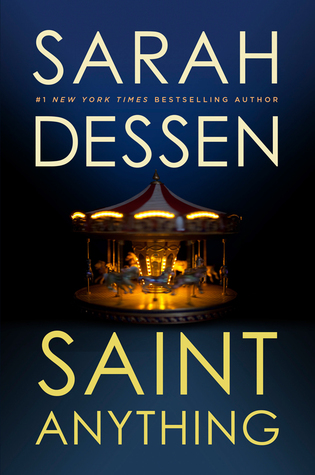 Author: Sarah Dessen
Pages: 417
Publisher: Viking Juvenile
Format: Hardcover
My Rating: 4 out of 5 stars
Summary (from Goodreads): Peyton, Sydney's charismatic older brother, has always been the star of the family, receiving the lion's share of their parents' attention and—lately—concern. When Peyton's increasingly reckless behavior culminates in an accident, a drunk driving conviction, and a jail sentence, Sydney is cast adrift, searching for her place in the family and the world.

When everyone else is so worried about Peyton, is she the only one concerned about the victim of the accident?

Enter the Chathams, a warm, chaotic family who run a pizza parlor, play bluegrass on weekends, and pitch in to care for their mother, who has multiple sclerosis. Here Sydney experiences unquestioning acceptance. And here she meets Mac, gentle, watchful, and protective, who makes Sydney feel seen, really seen, for the first time.
---
I'm gonna try to keep this review short and sweet so as to avoid spoiling things for anyone. Here goes!
I've been a huge fan of Sarah Dessen for so long that just reading this novel felt like coming home. It's been a few years since Dessen released a new novel, so you can only imagine how excited I was to get my copy and dive right in.
I loved all the little mentions of characters from the past, and - of course - Colby. Sydney was an extremely interesting and complex character, but still very easy to relate to (as all Dessen's protagonists are). I loved Mac and Layla and the rest of the Chathams - their energy and the family dynamic made them seem like that family that everyone always loves to be around: loud and noisy and unquestioningly full of love for one another. The added complexity of Mrs. Chatham's illness ensured that this family was one that would band together no matter what, and the juxtaposition of Sydney's family only served to show just how fractured Sydney's family really was.
This was definitely one of Sarah's darker novels, but still one that is easy to relate to and carries a powerful message. I recommend Saint Anything to all fans of contemporary YA and (duh) Sarah Dessen's previous novels.