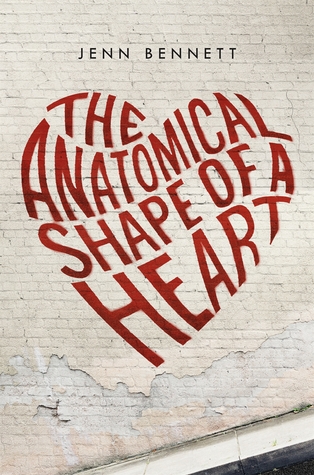 Author: Jenn Bennett
Pages: 304
Publisher: Feiwel & Friends
Format: Hardcover
My Rating: 4 out of 5 stars
Summary (from Goodreads): Artist Beatrix Adams knows exactly how she's spending the summer before her senior year. Determined to follow in Leonardo da Vinci's footsteps, she's ready to tackle the one thing that will give her an advantage in a museum-sponsored scholarship contest: drawing actual cadavers. But when she tries to sneak her way into the hospital's Willed Body program and misses the last metro train home, she meets a boy who turns her summer plans upside down.
Jack is charming, wildly attractive . . . and possibly one of San Francisco's most notorious graffiti artists.

On midnight buses and city rooftops, Beatrix begins to see who Jack really is—and tries to uncover what he's hiding that leaves him so wounded. But will these secrets come back to haunt him? Or will the skeletons in Beatrix's own family's closet tear them apart?


---
My Summary: Beatrix is a bit ... strange.
She's an incredibly talented artist, but instead of painting landscapes or drawing portraits, Beatrix like to sketch anatomical diagrams. As in diagrams of body parts and dead people.
Determined to become a world-renowned medical illustrator, Beatrix engineers a plan to get into the cadaver lab at the hospital and draw diagrams based on real dissected bodies. The only problem is the director of the hospital seems to have forgotten about their meeting, leaving Beatrix to take the night bus home.
All Beatrix is worried about is avoiding the major creeps that seem to frequent the bus late at night. But on the way home, she makes an unexpected acquaintance: a boy named Jack, who seems to be in possession of more than a few cans of gold spray-paint - a rare kind that only San Francisco's most mysterious graffiti artist uses.
Determined to figure out if he's actually responsible for the beautiful art she's seen around town, Beatrix sets out to find Jack and confront him about the paint. What starts as a wild goose chase turns into the adventure of a lifetime as Jack reminds Beatrix what love and art are all about, changing her life as she knew it.
My Thoughts: This is one of those novels that I predicted I'd love after just reading the title. I wasn't wrong.
Having been an aspiring medical illustrator myself once, this novel was perfection on so many levels. And there were so many amazing elements that made the story what it was! First, the setting: San Francisco. If there was ever a place for love and art to mix, San Fran is where it would go down. I loved the rich descriptions of the city, and the way that Jack's art (don't even get me started on the whole art vs. graffiti argument) only served to enhance the settings. I can only imagine how beautiful these works of art would be in real life, as Bennett's descriptions pretty much made me drool. I mean seriously, can someone get on drafting some of these designs? I'd probably love you forever if you did.
Beatrix was such a relatable character. I loved the chemistry between her and Jack, and I liked that he pulled her out of her shell. Beatrix's art was incredibly important to her, and you could almost see the beauty in the anatomical drawings as she attempted to perfect her craft. (I know what you're thinking - how in the world could pictures of dismembered body parts be beautiful? And to that I say: Google "grey's anatomy medical illustrations" and you'll have your answer.)
Despite all the beautiful art and the relationship heating up, I felt like the first half of the novel was a little more enjoyable than the second half. That was probably only me though, as I tend to cringe whenever shit hits the fan for the main characters. Beatrix and Jack were great characters, but a few of their choices were a little foolish. But nobody's perfect, right?
Jack and Beatrix's story had me hooked from the very first page. Their struggles to deal with their own issues as well as help each other find strength made these characters feel incredibly realistic. The romance element was also very well-written, and I loved the role reversal when it came to sexual experiences. I also really loved the family aspect in both Jack and Beatrix's cases, especially the way Jack's sister's illness was approached.
Final Thoughts: I definitely recommend this novel to fans of Isla and the Happily Ever After as well as Graffiti Moon.