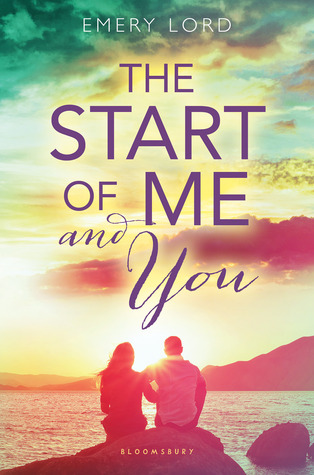 Author: Emery Lord
Pages: 384
Publisher: Bloomsbury
Format: Hardcover
My Rating: 5 out of 5 stars
Summary (from Goodreads): It's been a year since it happened—when Paige Hancock's first boyfriend died in an accident. After shutting out the world for two years, Paige is finally ready for a second chance at high school . . . and she has a plan. First: Get her old crush, Ryan Chase, to date her—the perfect way to convince everyone she's back to normal. Next: Join a club—simple, it's high school after all. But when Ryan's sweet, nerdy cousin, Max, moves to town and recruits Paige for the Quiz Bowl team (of all things!) her perfect plan is thrown for a serious loop. Will Paige be able to face her fears and finally open herself up to the life she was meant to live?
---
My Summary: Paige has had enough.
It's been a year since her boyfriend died, and Paige is sick of the pitying looks and the sympathetic head tilts. She can't help but feel guilty for wanting to move on with her life, but she knows it's time to get on with it.
So she creates a step-by-step plan to maneuver her way back to normalcy. The first step? To get her old crush interested again. Seems easy enough, but things start to go wrong almost immediately. And instead of spending some quality time with Ryan, Paige finds herself spending more and more time with his hilarious cousin Max.
They soon form a group of sorts, and Paige finds herself relying more and more on these two incredible guys. But which one has her heart? And will she be able to let go of her past in order to let something amazing begin?
My Thoughts: Oh man. This was one of those books that hit me in all the right places and made my heart so incredibly happy. The Start of Me and You is an incredible, feel-good story perfect for fans of Sarah Dessen and Morgan Matson.
Paige is an extremely relatable, likable character. Her inner monologue was so funny and familiar, it was as if I was listening to a friend relate her day to me over the phone. Emery Lord definitely knows how to write dialogue, and there's no doubt that she knows her way around the mind of a teenage girl.
And Max? Let's talk about this beautiful collection of words for a second. If Max was a real person I would wrap him in a blanket and never let him go. Basically, he will have my heart forever and always. I loved all the characters, but Max was special.
I adored all the Pride & Prejudice references in this novel, and the amount of times I laughed out loud had me wondering how a book with such a sad premise could have me cracking up so often. This book touched on a lot of serious issues without feeling like a cheesy self-help book, which I am so thankful for.
I couldn't put this novel down from start to finish. I was hooked, and I loved every minute.
Final Thoughts: I recommend this to anyone I haven't already (figuratively, of course) thrown it at.